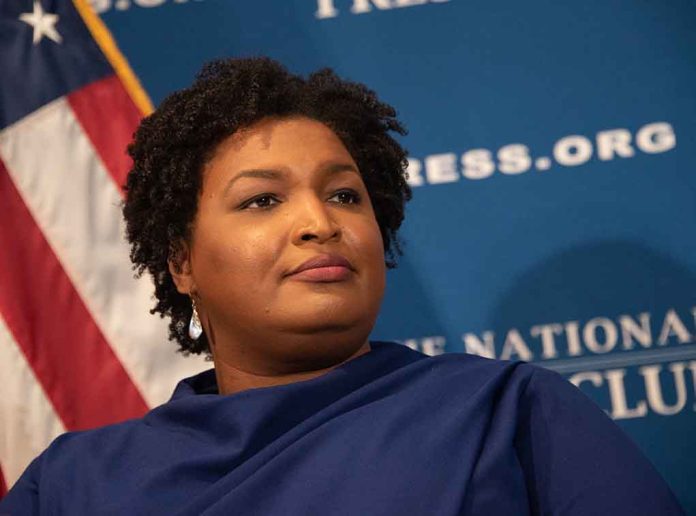 Democratic Candidate Under Fire for Extremely Controversial Comments
(WatchDogReport.org) – Stacey Abrams is in another contest against Georgia Republican Governor Brian Kemp in a rematch of their 2018 battle, which she has continually claimed was "stolen" from her. She also claims that her complaints are utterly different from President Donald Trump's 2020 allegations. Now, she's trying to use the same convoluted logic in that previous argument to tie access to abortion to people's fears of putting food on the table in the face of the astronomical inflation rate the country has seen under President Joe Biden.
While my opponent wants abortion without limits to fix Joe Biden's 40-year high inflation, my plan is:

✅ Suspend the gas tax
✅ Send another $1B back to taxpayers
✅ Pass a property tax rebate for homeowners
✅ Implement largest tax cut in state history https://t.co/mj4N3z8fA9

— Brian Kemp (@BrianKempGA) October 19, 2022
In an October 19 appearance on MSNBC's "Morning Joe," Abrams was asked if she would like to chime in on former President Barack Obama's comments about Democrats becoming so focused on woke issues that they ignore the problems of everyday life. She started off agreeing with the ex-president, and then almost literally with her next breath, claimed that "abortion is an economic issue."
Abrams went on to opine that women who are "forced" to carry a pregnancy to term are concerned about becoming impoverished, and then insisted that her plan to expand Medicaid coverage in Georgia would help solve this. She, of course, offered no explanation as to how medical coverage intended for those already impoverished would help prevent more women from descending into poverty.
The backlash from Republicans was swift and merciless, including a tweet from former University of Georgia Heisman Trophy winner and current Republican candidate for senator Herschel Walker.
.@staceyabrams believes abortion is the answer to inflation. I bet @ReverendWarnock won't answer the question – does he agree with her? https://t.co/0eyurCFg7E

— Herschel Walker (@HerschelWalker) October 19, 2022
Senator Rick Scott (R-FL) called the connection "barbaric," while his colleague from Tennessee, Marsha Blackburn, called it a form of "unhinged liberal economics."
Copyright 2022, WatchDogReport.org