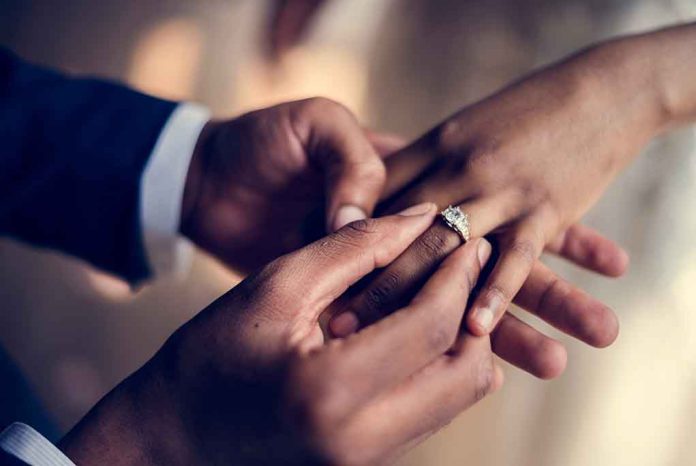 (WatchDogReport.org) – In 2021, Representative Cori Bush (D-MO) became the first Black woman and nurse to represent her state. The legislator is currently serving her first term in the Lower Chamber, sitting on the House Judiciary Committee, the House Oversight Committee, and vice chair of the Subcommittee on Crime, Terrorism, and Homeland Security. During her election campaign, the lawmaker ruffled some feathers when she reportedly spent almost $500,000 of her campaign money on private security after calling for defunding the police.
Fox News reported that Bush defended herself on "Good Morning America," saying people don't understand what defunding means. She said the movement is advocating for redistributing police funds to fix police problems that exist in America. Now, she's raising eyebrows again, this time for marrying a former security guard on the down low.
What Happened?
According to KSDK, the legislator wed US Army veteran Cortney Merritts earlier this month. He worked as a security guard during Bush's campaign, where she paid him over $62,000 — most of which was related to his protective services. The news source reported the Missouri lawmaker revealed previous trips where he accompanied her. In January 2021, Merritts reportedly traveled with Bush to her inauguration, to her appearance on "The Late Show with Stephen Colbert," and on a trip to Central America. According to reports, they began a personal relationship sometime in 2022.
What's the Problem?
If Merritts offered security services to the legislator, some might wonder what all the controversy is about. The problem arises because Bush paid for those services out of her campaign finances, which have rules about paying family members. Although he wasn't part of her family at the time, Breitbart reported the Congressional Ethics Office and the Federal Election Commission (FEC) might want to take a closer look to ensure those funds were used for "bona fide service[s]." She might be within congressional guidelines as long as she didn't pay more than "fair market value" for his security services.
KSDK said Bush wouldn't be the first to use campaign funds to pay family members — and even themselves. Although rare, members of both political parties have engaged in the practice. Those listed by Open Secret include Representatives Alexandria Ocasio-Cortez (D-NY), Russ Fulcher (R-ID), Rashida Tlaib (D-MI), and former Rep Denver Riggleman (R-VA).
Abbas Alawieh, Bush's chief of staff, released a statement after the wedding announcement, confirming the nuptials and making it clear that Merritts is not an employee of the legislator's congressional office.
Copyright 2023, WatchDogReport.org