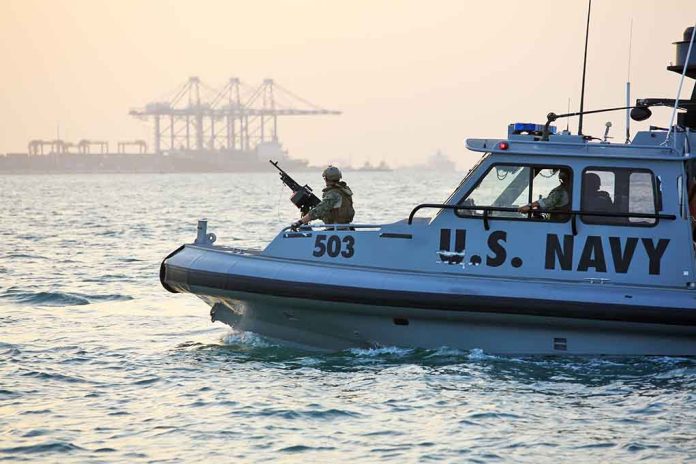 US Navy Busts Fishing Vessel Carrying Materials for Iranian Missiles
(WatchDogReport.org) – The US Navy has a very significant job patrolling and protecting international waters. These patrols serve as a deterrent, but sailors also actively seek out bad actors. This month, the US Naval Forces 5th Fleet made quite the seizure.
On November 8, in a joint effort, the Navy's USS The Sullivans and US Coast Guard's USCGC John Scheuerman worked together to intercept a fishing vessel headed to Yemen from Iran. The boat was traveling a common route used to transport weapons. When US forces searched the vessel, they found "more than 70 tons of ammonium perchlorate," according to a statement by the Navy. This material is commonly used to fuel ballistic missiles.
The Navy says it seized enough material to fuel more than a dozen ballistic missiles when warships from the 5th Fleet intercepted a fishing vessel heading from Iran to Yemen. https://t.co/8XccHwvIqH

— The Washington Times (@WashTimes) November 15, 2022
That's not all US forces found on the boat, however. They also recovered more than 200,000 pounds of urea fertilizer, which is known for its use in explosives. In the Navy's statement, Vice Adm. Brad Cooper said, "The unlawful transfer of lethal aid from Iran does not go unnoticed." Furthermore, the transport of these materials is a violation of international law and UN Security Council Resolution 2216.
The four crewmen on the vessel were turned over to the Yemen Coast Guard in an at-sea exchange. Following the completion of the seizure and a week-long investigation, US forces sank the boat in the Gulf of Oman to get it out of the way of commercial shipping routes.
This is the first time the US 5th Fleet has ever seized ammonium perchlorate.
Copyright 2022, WatchDogReport.org