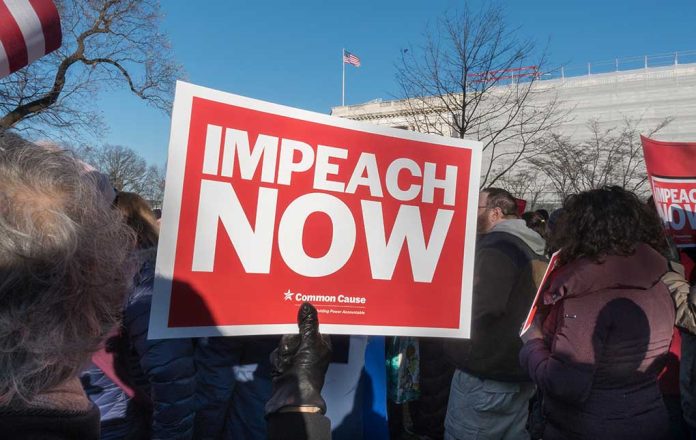 (WatchDogReport.org) – On January 9, Representative Pat Fallon (R-TX) introduced articles of impeachment against Secretary of Homeland Security Alejandro Mayorkas in the House of Representatives. The bill had 40 GOP backers but made it no further than the introductory phase. The Texas rep accused Mayorkas of high crimes and misdemeanors. The New York Post reported that Fallon said the secretary has shown he has not been fulfilling his duties, calling the move "necessary" but "unfortunate."
On February 1, Representative Andy Biggs (R-AZ) said he also filed articles of impeachment against the secretary of Homeland Security. This is the second time the Arizona lawmaker has made such a move. The first time was in August 2021. Both pieces of legislation outlay the same accusations as Fallon outlined in his filing — high crimes and misdemeanors. Biggs explained Mayorkas has been neglectful in his duties, allowing a "migration and drug invasion" at the southern border.
Second House GOPer moves to impeach DHS chief Alejandro Mayorkas https://t.co/xI7wcLnmxD pic.twitter.com/S8T2c85h6K

— New York Post (@nypost) February 2, 2023
The GOP representative claimed the secretary's policies "incentivized" millions of people to flock to the border — breaking records — instead of enforcing the laws in place to keep them out. Biggs also mentioned the influx of the dangerous drug fentanyl, which is, he says, the "leading cause of death" for US citizens aged 18 to 45. Instead of stopping the illegal substance at the border, Biggs accused Mayorkas of basically ushering the drug across the border by stopping "wall construction" and removing agents from their posts. The lawmaker's most recent measure has the backing of 28 GOP House members.
That same day, the Post reported House Judiciary Committee Chairman Jim Jordan claimed during a committee meeting that the border crisis was an intentional move by the Biden Administration. He called for hearings to start on the matter.
Only time will tell if enough GOP members hop on board to bring the impeachment process to fruition.
Copyright 2023, WatchDogReport.org