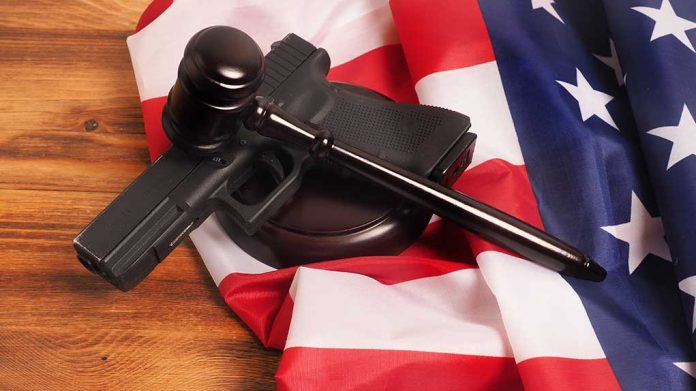 (WatchDogReport.org) – Democrats seem to have an endless mission regarding gun control. Every incident is used as a basis to push another restrictive law. The courts often overturn these legislative changes, labeling them an unconstitutional infringement on Second Amendment rights. However, the Supreme Court (SCOTUS) recently declined to block a controversial New York gun law, drawing ire.
On Wednesday, January 11, the SCOTUS denied a petitioner's request to put parts of a New York law on hold until the case works its way through the legal system. The provisions in question involved a challenge to Governor Kathy Hochul's (D-NY) law that bans firearms in places deemed "sensitive" locations. The legislation specifically applies to schools, places of worship, and other public arenas such as parks.
Supreme Court declines to block New York gun law as appeal proceeds https://t.co/QPFhahFv75 pic.twitter.com/suGroAJV4e

— The Hill (@thehill) January 12, 2023
Hochul's law came in response to the Supreme court's decision in the case of New York Rifle & Pistol Association v. Bruen last June. Here, the Justices said that requiring a reason to apply for public concealed carry was in direct violation of the Second Amendment. So, Hochul tried to limit where gun owners could take their weapons.
In one October ruling, a US District Court judge, Glenn Suddaby, struck this restriction down, along with the requirement of applicants to demonstrate "good moral character." However, an appeals court reversed the decision, stating those provisions can remain in place while the case undergoes the appellate process.
The petitioners, seeking to block those provisions once again, asked the Supreme Court to intervene. The Justices declined to interfere, but not because they felt the case lacked merit. Justice Samuel Alito said it needed time to go through the lower courts but indicated that the petitioners could turn to the SCOTUS again if that process took too long.
How the case plays out in the courts could have national implications. Several other states already have similar laws on the books or are attempting to pass them right now.
Copyright 2023, WatchDogReport.org