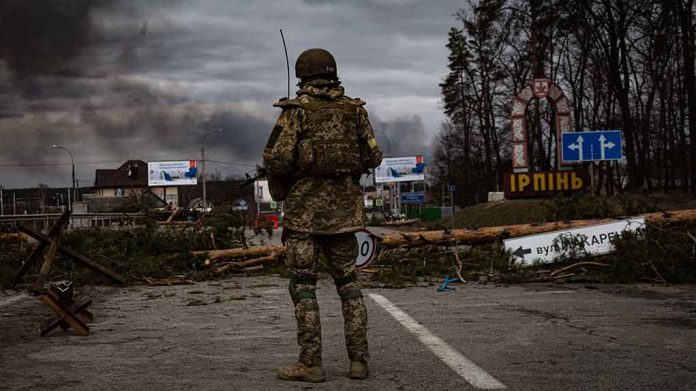 Russian Forces Allegedly Looting Dead Ukrainian Soldiers for Military Equipment
(WatchDogReport.org) – Russian President Vladimir Putin ordered an invasion of Ukraine, continuing his attempts to reintegrate the country into a new Soviet-style regime that began when he "annexed" the Crimea region in 2014. What he expected to be a quick victory has dragged on, leaving his soldiers desperate to find ways to stay alive. The New York Times has published what are purported to be intercepted telephone calls made by Russian troops to their loved ones back home.
[Warning: strong/offensive language]
Intercepted phone calls of Russian soldiers in Ukraine to their families back home.

Soldiers openly confess to murdering and looting.

Thank you, @YousurAlhlou, @MashaFroliak and @nytimes for the impressive interactive article. Highly recommend it.https://t.co/6necL8u9Ba

— Anton Gerashchenko (@Gerashchenko_en) September 28, 2022
This does not appear to be a new development but rather has been going on since nearly the beginning of Putin's offensive. One call was between a soldier named Sergey and his girlfriend, where he told her that "some guys took armor off of Ukrainians' corpses [because] their NATO armor is better than ours."
Another soldier, this one named Roman, allegedly told someone back home that the state-owned TV channel Zvezda is not telling the truth; it's showing modern equipment back home, but he says what they are using "is ancient."
Andrey told a loved one, "the mood is so [expletive] negative," other soldiers are crying and are even suicidal.
Even from the days of the Soviet Union, a KGB officer like Putin understood the benefit of propaganda, and he now uses the state-run Tass News agency to accomplish his goals. They continue to tell their citizens it is the government in Kyiv and their troops who are prolonging the war, suffering from loss of morale, and attacking civilian refugees.
So who do you think is telling the truth? Soldiers on the phone with loved ones or the Russian news outlet?
Copyright 2022, WatchDogReport.org