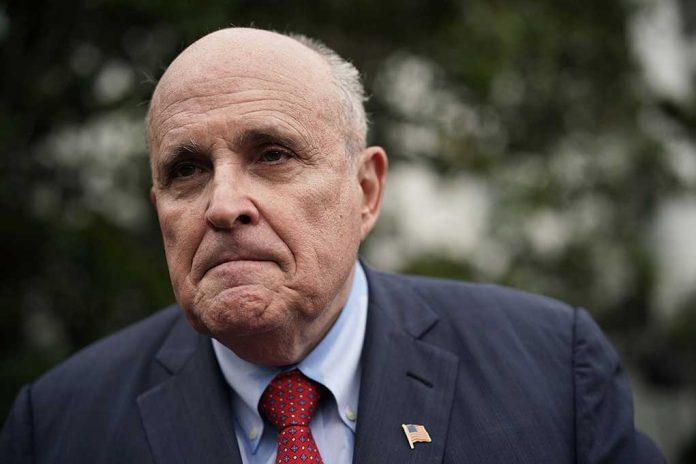 (WatchDogReport.org) – Rudy Giuliani, former New York City Mayor, recently received more bad news as he is being sued by his attorney for unpaid legal fees. Robert Costello of the law firm Davidoff Hutcher & Citron LLP says Giuliani owes him more than $1.3 million. Giuliani signed a retainer agreement with Costello in 2019 and accrued debt in the amount of $1,574,196.10, of which he has only paid $214,000.
Costello and his firm claim to have represented, or been involved with, litigation for multiple cases involving Giuliani across several states over three years. A large portion of the debt was established from Costello and his firm representing Giuliani during the criminal investigation into the January 6 riot at the US Capital and charges in Georgia surrounding the election controversy.
Giuliani surrendered in Georgia to charges incurred regarding the 2020 Presidential election. Giuliani and Donald Trump both face charges in the state concerning the 2020 election.
Trump hosted a fundraiser for Giuliani's legal fees on September 7 at his golf club in Bedminster, New Jersey. The cost was $100,000 per plate; reports indicated the event was expected to raise roughly $1 million. Giuliani made a payment to Costello on September 14 for $10,000.
Giuliani is facing other lawsuits as well. A judge in Georgia has held him liable in a defamation lawsuit. Two Georgia election workers claim Giuliani falsely accused them of fraud. He's also been ordered to pay $130,000 to cover their legal fees and may be on the hook for much more.
Last year, a judge threatened Giuliani with jail time over the $260,000 he owed to his third ex-wife. In May, a former employee filed a lawsuit claiming Giuliani owed her $2 million in unpaid wages and for inappropriate behavior.
Giuliani expressed personal disappointment in Robert Costello suing him for the legal fees, calling the amount "excessive." Costello responded that Giuliani received bills for four years and never complained — but also never paid.
Copyright 2023, WatchDogReport.org