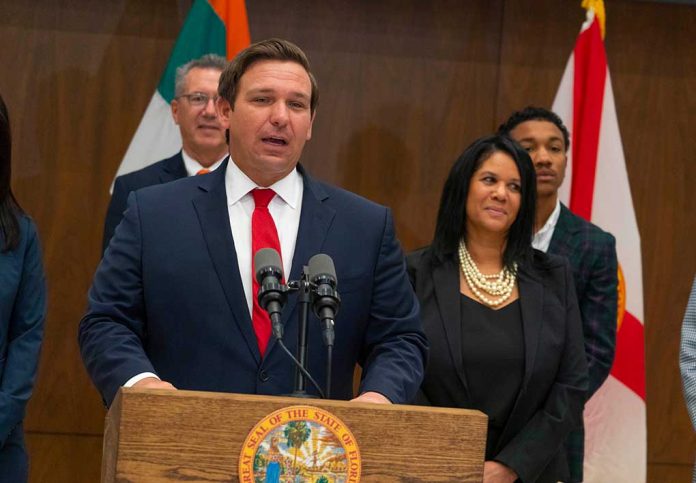 (WatchDogReport.org) – In September 2022, Florida Governor Ron DeSantis (R) loaded up two planes full of migrants and sent them to Martha's Vineyard. The surprise move didn't come without controversy. A Texas sheriff opened an investigation into the matter, and a civil rights group filed a class action suit against DeSantis, citing violations of migrants' Fourth and Fourteenth Amendment rights. But a recent move by the Florida legislature might halt any similar issues for the governor in the future.
On February 10, the House of Representatives in the Sunshine State passed the Transportation of Inspected Unauthorized Aliens bill (SB-6B), creating a program that would allow the government to move illegal aliens out of Florida and into other designated sanctuary areas. The legislature set aside $10 million for the measure, which had already passed the state's Senate a few days prior. Now, it heads to DeSantis' desk, where he's expected to sign it into law.
Ron DeSantis Expected to Secure $10M to Fly Illegal Aliens to Sanctuary Cities https://t.co/qznWtFPImX

— Neesie 🇺🇸 (@neesietweets) February 14, 2023
Blaise Ingoglia, a state senator who sponsored the move, made it clear in a statement to Fox 13 that Florida has no interest in becoming a sanctuary state. He said, "it's time for those sanctuary cities to put their money where their mouth is."
Although the group flown to Martha's Vineyard were Venezuelan migrants who were in the country legally, DeSantis' main concern seems to be those who don't follow the rules when they enter the US. During a recent press conference, the Florida governor told reporters he thinks Americans are tired of "having an open border" in the US. He reasoned that those in the position to do something about it — like him — need to "stand up" and use the resources available to address the issue.
Democrats, on the other hand, seem offended by the move. State Senator Lori Berman (D) called the move a "political ploy" that's making migrants "feel uncomfortable."
Copyright 2023, WatchDogReport.org