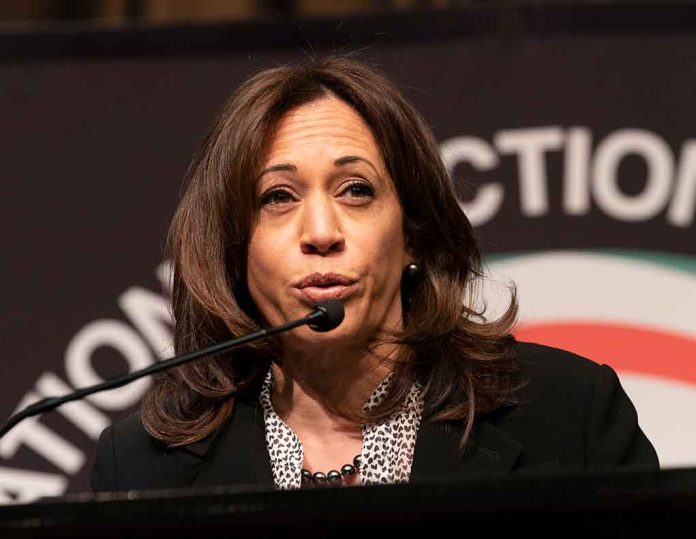 DeSantis Slams Kamala Harris Over Hurricane Response
(WatchDogReport.org) – When Hurricane Ian struck the Florida Gulf Coast on September 28, it was a Category 4 monster making landfall with sustained winds just a few miles per hour below the threshold of a Category 5. The wind, rain, and storm surge upended people's lives, regardless of a person's political party or color. Still, Vice President Kamala Harris made comments some have interpreted as meaning that providing relief should be based on racial "equity" and not solely on need. Florida Governor Ron DeSantis (R) did not agree with her assessment.
Ron DeSantis to Kamala Harris: "You don't have to politicize every single tragedy in this country." https://t.co/ax7bhOooX0

— Breitbart News (@BreitbartNews) October 4, 2022
The vice president's comments came while she was speaking with Priyanka Chopra Jonas at a Women's Leadership Forum on the afternoon of September 30.
After claiming the lowest level income areas and communities of color were the "most impacted," Harris went on to say, "we have to address this in a way that is about giving resources based on equity."
DeSantis appeared on Fox News Channel's "Hannity" and claimed that the VP is playing "identity politics [and thinks] it's ridiculous." Federal Emergency Management Agency (FEMA) Administrator Deanne Criswell made an appearance on CBS' "Face the Nation," where she made an attempt to excuse the vice president's comments. She also said she had made a commitment to the governor. Criswell was publicly reiterating the promise that everyone affected in Florida will have access to help.
Copyright 2022, WatchDogReport.org