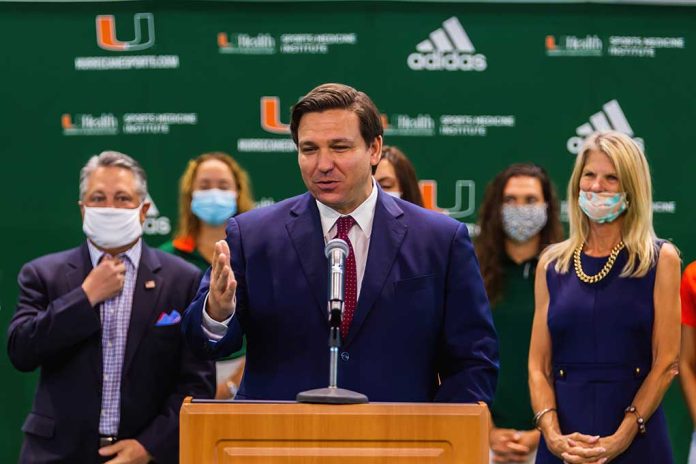 (WatchDogReport.org) – Florida Governor Ron DeSantis (R) has been getting a lot of attention lately. His state was one of the only ones that didn't impose extended, oppressive lockdown measures on its citizens. As a result, the state was able to bounce back from the economic strife of the COVID-19 pandemic.
Former President Donald Trump recently said something that created a lot of buzz about DeSantis. Recently, a poll showed the governor's popularity is increasing.
Popularity on the Rise
A new Economist/YouGov survey revealed Governor DeSantis' approval is 34% compared to 32% who view him unfavorably. That might seem low, but it's important to note that roughly 33% of voters had no opinion. So, of the voters who are engaged, more than half of them have a favorable opinion.
In April, a Cygnal conducted a survey and found that Floridians overwhelmingly approved of the way DeSantis handled the pandemic. It found 60% of voters liked the way he treated COVID-19 in the state and 72% approved of the way he distributed vaccines.
A Rising Star
DeSantis is being named as one of the top contenders for the 2024 presidential race if former President Donald Trump doesn't run. If 45 does decide to run for president again, he has said that he isn't opposed to having the Florida governor as his running mate.
On April 29, Trump told Fox Business' Maria Bartiromo that DeSantis has done a "great job as governor" who has taken off like a "rocket ship" within the GOP. A lot of that can be contributed to the way he handled COVID-19, but he's doing other things as well. The governor signed a law that tightens rioting laws, secures voting, and he's even giving $1,000 bonuses out to first responders. Although we don't know who is going to run in 2024, there is no denying that Trump and DeSantis combined would be a powerful force.
Copyright 2021, WatchDogReport.org