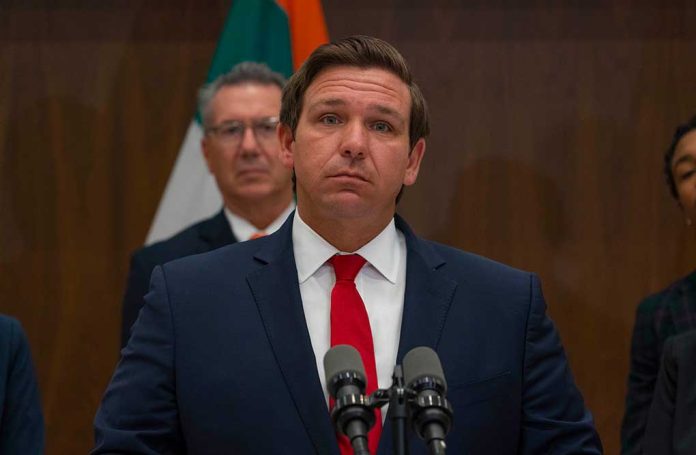 (WatchDogReport.org) – On Monday, October 4, Florida Governor Ron DeSantis (R) announced his wife, Casey, has breast cancer. Recently, he gave an update on her condition.
During an event in St. Petersburg on October 12, the governor praised his wife's strength. He said she has received some medical treatment already and that she's the "healthiest person in the whole hospital." Ron explained he believes the first lady is a fighter and an "exceptional person."
"I have faith. I got faith in the big guy upstairs, and I've got faith in her. And I know that this is a bad break, but she's got an awful lot to live for," Gov. Ron DeSantis said of his wife, Casey's, breast cancer diagnosis. https://t.co/jbJ2BiR3kI

— News4JAX (@wjxt4) October 12, 2021
DeSantis told the Floridians at the event that they should schedule regular screenings. "These screenings can really be life-saving," he said.
October is breast cancer awareness month. According to the National Breast Cancer Foundation, one in eight women will receive a breast cancer diagnosis in their lifetime. An estimated 2,650 men will receive a diagnosis in 2021. More than 43,000 women and 530 men will die from the disease this year.
Women ages 45 to 54 should get annual breast exams. All women and men should check themselves for lumps in their breasts. If they feel something abnormal, schedule a doctor's appointment.
Casey and Ron DeSantis are prepared for the tough road ahead. The two have three children under the age of five. America is wishing Florida's first lady a speedy recovery.
Copyright 2021, WatchDogReport.org