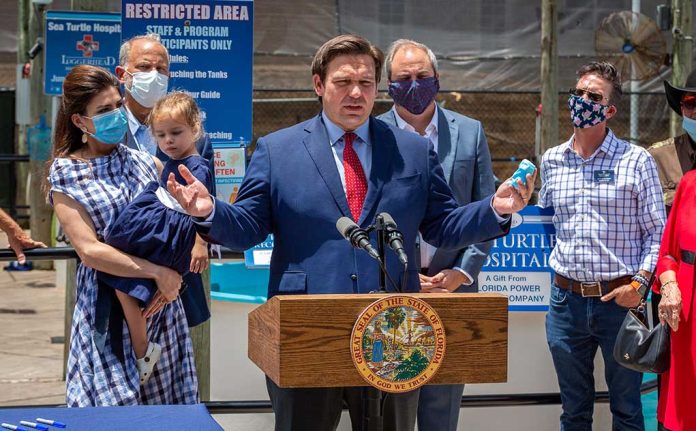 Ron DeSantis ARREST Bombshell – Big Announcement!
(WatchDogReport.org) – Florida Governor Ron DeSantis (R) and the state legislature created the Office of Election Crimes and Security to investigate all types of voter fraud as well as arrest and prosecute suspected violators. It's been just under two months since the unit was established, and on Thursday, August 18, the governor announced the office had arrested 20 people for voter fraud.
WATCH: Ron DeSantis announces his Office of Election Crimes and Security is charging and arresting individuals across the state for voter fraud

"These folks voted illegally… They are disqualified from voting because they have been convicted of either murder or sexual assault!" pic.twitter.com/JhQY2SlOzN

— Florida's Voice (@FLVoiceNews) August 18, 2022
In January 2022, during his State of the State Address, DeSantis said the new unit's "sole focus will be the enforcement of Florida's election laws." This includes Amendment 4, which was passed in 2018. Under those laws, people convicted of felony sexual assault or murder are permanently banned from casting ballots. The investigators identified these 20 people, most located in Miami-Dade, Palm Beach, and Broward Counties, as allegedly having violated this statute.
DeSantis made it very clear that this is just the beginning of the office's efforts. He wants to ensure that only United States citizens are voting. Foreign nationals, he says, will come under scrutiny soon, too. The governor called out the federal government for its failures in this respect and said Florida will step up to the plate where the White House has failed.
If convicted, the 20 people arrested face up to 5 years in prison and a $5,000 fine.
Copyright 2022, WatchDogReport.org