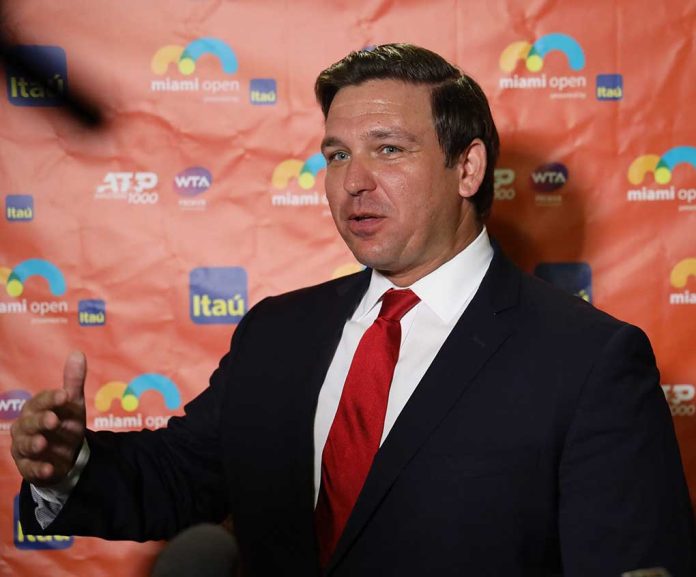 (WatchDogReport.org) – Even before Governor Ron DeSantis (R-FL) won the governorship in November 2022, there has been speculation he would run for president in 2024. Despite the rumors, DeSantis hasn't officially announced a presidential campaign. Recently, he's been making stops across the country to promote his new book release.
In February, The New York Times reported DeSantis was traveling to Iowa, Nevada, and New Hampshire to discuss his book but stated the real reason was to see how the different parts of the country would receive him — if he were to announce a run. Perhaps not coincidentally, all three states have early presidential primaries. The NYT wasn't the only one to notice, either. On March 15, former President Donald Trump's super political action committee (PAC) filed a complaint against the governor, claiming DeSantis is running a "shadow presidential campaign."
Details About the Legal Action
Trump's Make America Great Again Inc. PAC called for the Florida Commission on Ethics to investigate DeSantis' actions. NBC News reported the group believes the state governor is violating election laws by allegedly running an unofficial campaign, abusing his office, and neglecting his duties in order to pursue the presidency. The super PAC reportedly asked the commission to look into the governor's "lucrative book tour" and the money he's allegedly received for his national political aspirations. The complaint called for the ethics commission to impose the harshest penalties allowed under Florida law.
Reactions and Other Reasons
According to NBC News, part of the reason for the complaint lies within Florida's Resign-to-Run Law. The law states that DeSantis must resign from the governorship to make his candidacy for president official. The reason is that the two office terms would overlap if he was elected to the Oval Office. If the Florida governor is allowed to continue with his alleged shadow campaign, he would be able to skirt that law — hence Trump's complaint.
Taryn Fenske, DeSantis' communications director, reacted to the filing, calling the move just another ridiculous and "politically motivated" attack. She said it was "inappropriate" to use the state's ethical complaint process this way. Ken Cuccinelli, who created one of the PACs listed in the complaint, indicated the former president and his team are intimidated by DeSantis, and that's really what prompted the filing. He further said Trump "should be" worried about the potential competition.
ABC News reported that the Florida governor appointed five out of the nine people currently sitting on the state's ethics commission.
Copyright 2023, WatchDogReport.org