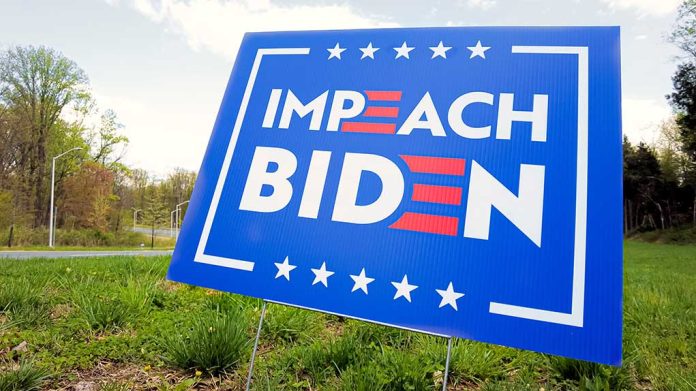 Joe Biden IMPEACHMENT – Big News Underway!
(WatchDogReport.org) – There is a very real possibility that Republicans can flip both houses of Congress to their control in the 2022 midterm elections. Many analysts think if it ends up being only one or the other, it will be the House of Representatives. They also seem to believe if it does happen, the new majority would use that position to impeach President Joe Biden. In fact, some from the right side of the aisle have already filed articles of impeachment that give a glimpse of what issues would be used.
Hunter's Laptop
The New York Post broke the story of the president's son leaving his computer at a repair shop and the subsequent revelation of emails and pictures found upon it. Liberal media outlets, and parts of the establishment government buried the story — or knowingly lied about it being a Russian disinformation campaign — in their zeal to see former President Donald Trump voted out of office.
Representative Marjorie Taylor Green (R-GA) filed her articles on January 21, 2021, as House Resolution 57, for abuse of power by enabling bribery and other high crimes and misdemeanors. She claims that as vice president during the Obama administration, Biden used his position to threaten $1 billion in United States loan guarantees if the Ukrainian government did not find a way to halt an investigation into Burisma energy, where Hunter Biden sat on the Board of Directors. She also alleges other irregularities of influence peddling with the elder Biden.
The Afghan Debacle
President Trump signed a deal with the Taliban in Afghanistan to bring peace to the country that had seen decades of war. The United States military was engaged in a peaceful transition where troops would have been out by May 1, 2021. The Biden Administration delayed the date to September 11 of that year, at which point the terrorists launched an all-out offensive that had them quickly closing in on Kandahar airbase.
Greene filed another set of articles of impeachment, this time along with Representatives Mary Miller (R-IL) and Dr. Paul Gosar, DDS (R-AZ), as House Resolution 598 on August 23, 2021. They claim Biden's actions were the reason "thousands of American civilians and Afghan allies" were left behind along with many weapons and military equipment that had been financed by the American taxpayers.
Border Crisis
Biden and the rest of the Democrats have made no secret of the fact they are allowing a veritable flood of illegal immigrants to pour across the border with Mexico. They have even gone so far as to ship pallets of baby formula to processing centers for the use of people who have broken the law to be here; meanwhile, American parents face empty shelves when it comes to feeding their children.
A group of four GOP Congressmen, Bob Gibbs (R-OH), Andy Biggs (R-AZ), Randy Weber (R-TX), and Dr. Brian Babin, DDS (R-TX), filed House Resolution 671 on September 21, 2021. They allege Biden violated his constitutional oath to protect the United States "by halting the construction of a barrier along the US-Mexico border, leaving Border Patrol Agents to fend for themselves…"
They also accuse the president of "willfully" allowing thousands of migrants into the interior of the country without a date to appear in court. And, they allege he "knowingly released migrants having tested positive for COVID-19 from Border Patrol custody."
When the new Congress takes shape in January 2023, all of the current articles of impeachment will lapse. However, lawmakers and pundits from both sides of the political divide believe they will be refiled, or new ones will be put in their places.
Copyright 2022, WatchDogReport.org