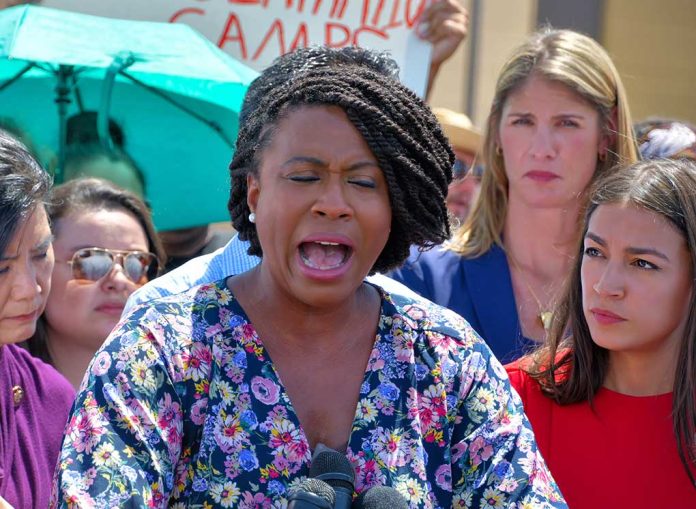 Republicans Attacked During Vigil, Including Congressional Candidate
(WatchDogReport.org) – Cayler Ellingson of McHenry, North Dakota, 18, was run down by an SUV and killed allegedly because he was a MAGA Republican who ran afoul of a local Democrat, not long after President Joe Biden's demonizing comments. Donnie Palmer, who is running for Congress in the Seventh District of Massachusetts, was holding a vigil for the young man in the city of Somerville when he and several others were allegedly attacked by people reportedly attending an event for Representative Ayanna Pressley (D-MA) in a local theater.
This is the woman, in orange ( one of Pressley' s people ) who called in the 4 thugs to beat up the gay black gay man who was protesting her! She should be charged with conspiracy in relation to this brutal hate crime! #dorchesterdonniepalmer #donniepalmer4congress #DonniePalmer pic.twitter.com/Hey5WO4C92

— Donnie Palmer 4 Congress (@Donnieplmr) September 26, 2022
The rest of The Squad, consisting of Congresswomen Alexandria Ocasio-Cortez (D-NY), Ilhan Omar (D-MN), Rashida Tlaib (D-MI), and Cori Bush (D-MO), were all in attendance supporting their progressive, alt-left cohort. Meanwhile, Palmer and his group were outside facing down four thugs, as he called them, and what started as a verbal altercation devolved into a fist fight.
Although Palmer has accused one of Pressley's volunteers of sending the four attackers, there has been no official confirmation of that accusation. One individual was taken to the hospital with non-life-threatening injuries. Meanwhile, two men, Foster Starks of Cambridge, Massachusetts, and Andwain Coleman Jr. of Cuyahoga Falls, Ohio, were both arrested on charges of assault and battery with a dangerous weapon.
Copyright 2022, WatchDogReport.org