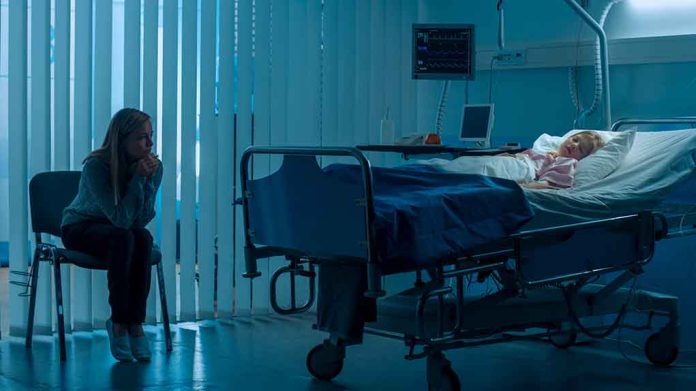 (WatchDogReport.org) – On January 14, Representative Suzanne Bonamici's (D-OR) communications director announced that the lawmaker and her husband were hit by a car after leaving an event in Portland, Oregon. The rep said Bonamici had a concussion and a cut, and her spouse had minor injuries, but both were expected to make a full recovery. Now, another representative was injured in an accident, and it appears to be even more serious.
On January 18, Representative Greg Steube (R-FL) reportedly fell off a ladder while cutting tree branches on his property. According to his office, who tweeted about the incident, the congressman was rushed to the intensive care unit (ICU) at the hospital, where doctors were treating him for his injuries. Steube's rep thanked the witness who called emergency services for the lawmaker and first responders for their swift assistance.
Thank you to all who continue to pray for Congressman Steube. The Congressman was knocked approximately 25 feet down off a ladder while cutting tree limbs on his Sarasota property yesterday afternoon.

— Congressman Greg Steube (@RepGregSteube) January 19, 2023
The next day, the congressman moved out of the ICU and was home recovering two days later. Steube's injuries included torn neck ligaments, a fractured pelvis, and a punctured lung, but he seemed to be on his way back to health. He tweeted a photo of himself recovering on the couch with the help of his rescue dogs keeping him company.
I am blessed to have a great support team in my wife Jennifer as well as numerous friends and family, including the Steube pups!

Grateful for everyone's prayers and well-wishes as I recover from a fractured pelvis, a punctured lung, and several torn ligaments in my neck. pic.twitter.com/zQBtsWZPo0

— Congressman Greg Steube (@RepGregSteube) January 24, 2023
House Speaker Kevin McCarthy (R-CA) reportedly reached out to the ailing legislator to let him know his new select subcommittee assignment, as he will be working remotely until he heals. Reports were unclear on how long he would be completing his duties from home. The speaker said Steube was in "good spirits."
The congressman was first elected to the House in 2018, where he represents two full counties and part of another in Florida. McCarthy said he was "eager to get back to work" in the 118th Congress, an attitude that many would see as a good sign of his recovery; however, his exact prognosis is unknown.
Copyright 2023, WatchDogReport.org