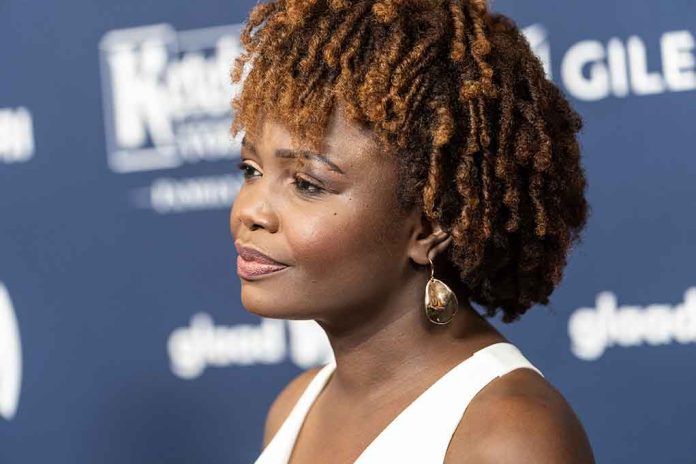 (WatchDogReport.org) – In May 2021, White House Press Secretary Karine Jean-Pierre held her first daily briefing after taking over for former Press Secretary Jen Psaki. Since then, Jean-Pierre has been very consistent in holding daily briefings, taking questions from reporters, and updating the public about important matters. While in the briefing room, there is a certain decorum that reporters adhere to when asking questions, and although conversations can get heated at times, the press secretary and those in the room usually share a mutual respect — until recently.
On March 20, the cast of "Ted Lasso" accompanied Jean-Pierre in the briefing room, as they were at the White House visiting President Joe Biden to talk about mental health awareness. As the press secretary was starting the meeting, Today News Africa correspondent Simon Ateba spoke out of turn, accusing Jean-Pierre of purposely ignoring him throughout his seven months attending briefings. The press secretary tried to shut the reporter down, saying, "we're not doing this," but Ateba persisted.
"You are making a mockery of the First Amendment!" pic.twitter.com/buXSi5p90c

— Townhall.com (@townhallcom) March 20, 2023
The reporter's colleagues jumped into the conversation, trying to get Ateba to stop interrupting the meeting. One called for "decorum," while others called for him to "respect" Jean-Pierre. However, the correspondent went on — as the TV cast stood awkwardly behind the press secretary — accusing Jean-Pierre of "making a mockery of the First Amendment."
Once she regained control of the briefing room, Jean-Pierre said Ateba's outburst was "unacceptable." She called for mutual respect between colleagues and for the briefing room itself. Jean-Pierre then gave reporters a choice whether to end the press briefing or end the meeting right then and there. Everyone chose to continue.
That evening, Ateba appeared on "Tucker Carlson Tonight" to complain about the press secretary. He told the host he was looked down upon because he was Black and not wealthy. Carlson said the events during the briefing "shocked" him.
Copyright 2023, WatchDogReport.org