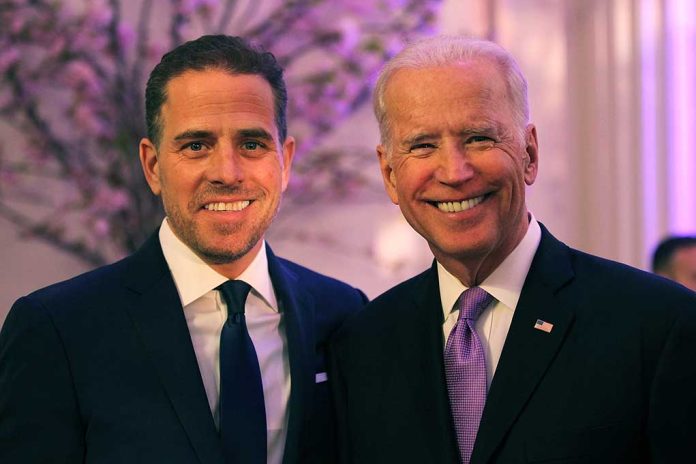 Biden Family PROBE Revealed – It's Real!
(WatchDogReport.org) – The saga of President Joe Biden's son, Hunter, became a hot topic during the 2020 election, particularly when it came to possible influence peddling that may have taken place when the elder was vice president during the Barack Obama administration. The younger Biden has been the focus of an investigation by the Department of Justice (DOJ), and many questions have arisen about his business dealings in China and Ukraine, and the contents of his now infamous laptop.
Digging for Information
America First Legal (AFL) is a conservative group that describes itself as an opponent of the radical left. According to its website, it has pledged to "wage a forceful defense of our rights, our country, and our cherished American way of life."
It's with this in mind that they have sent three Freedom of Information Act (FOIA) requests to the National Archives and Records Administration (NARA) regarding President Biden's VP records. The three letters ask for:
James Biden is the president's brother and was apparently working with Hunter in dealing with Chinese executives, according to emails taken from the laptop hard drive. By all accounts, he's the one "who fixes everything," in the words of the president.
The FOIA requests include a list of keywords and phrases that are of particular interest, email addresses, and an extensive list of "custodians" who may have been privy to them. They also detail the intent of the AFL to distribute the information they find "through traditional and social media platforms."
Changing Narrative
In what could have been an "October surprise" in the run-up to election day, the New York Post broke the story of Hunter Biden's computer being left in a repair shop. The exposé alleged that Hunter introduced his father to an executive from the Ukrainian energy firm Burisma not long before the then-VP supposedly applied political pressure to get a prosecutor that was investigating the company fired.
At the time, liberal mainstream media sources either ignored the story or more often dismissed it as a right-wing conspiracy theory or disinformation campaign. Brian Stelter of CNN — which sometimes resembled a Biden PR team more than a new source during the election — backtracked on that claim. However, some conservative commentators are accusing him of using his retraction as an attempt to stay relevant.
Copyright 2022, WatchDogReport.org