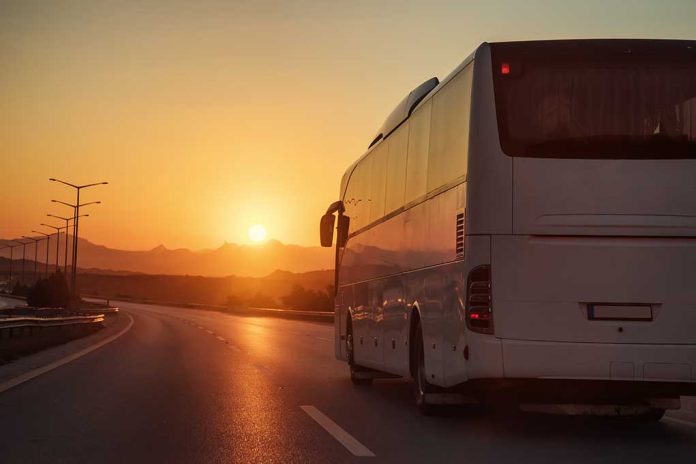 300th Busload of Illegal Immigrants Leaves Texas
(WatchDogReport.org) – President Joe Biden campaigned on promises interpreted by many in Mexico and Central America as invitations to cross the border into the United States illegally. Not only have millions of illegal aliens crossed the border, but the powerful narcotic fentanyl has poured into the country, and women and girls are being trafficked into the sex trade industry. To help alleviate some of the strain on the border cities that have been swamped, Texas Republican Governor Greg Abbott has sent busloads of these invaders to blue cities and states that have declared themselves sanctuaries.
Operation Lone Star
When a bowler throws 12 strikes in a row, it's considered a perfect game, and they end up with a score of 300. Abbott just announced his effort to move buses full of illegal aliens out of Texas reached that level as well, touting on his Twitter page that vehicle number 300 was sent off to Chicago.
The 300th Texas bus of migrants just left for Chicago.

As Biden does nothing, Texas will continue taking unprecedented action to relieve our overwhelmed border communities & secure the border.

— Greg Abbott (@GregAbbott_TX) November 11, 2022
In a September 16 press release on the governor's official website, Abbott called out "sanctuary city hypocrisy" and said over 11,000 people were sent to other parts of the country at that time. The buses had gone to Washington, DC; New York City; Chicago; and directly to the United States Naval Observatory in the nation's capital (aka Vice President Kamala Harris' official residence).
Alleviating the pressure put on resources and border cities is only part of what Texas has been accomplishing with Operation Lone Star. In a March 6, 2021, press release announcing the launch of the program, they also promised to "deny Mexican Cartels and other smugglers the ability to move drugs and people into Texas." In a continued effort to keep the citizens apprised of what was going on, on November 4, the governor updated the people noting they had seized "over 350 million lethal doses of fentanyl" over the length of the mission.
Border Czar MIA
MIA means "missing in action," so perhaps it's just best to call the vice president missing because she has shown no action since being named the administration's point person to address the problem. Senator John Cornyn (R-TX) recently issued a public plea for her to do something she has not yet done, set eyes on the problem.
The senator noted it's the constituency of his estate that has had to deal with the realities of the Biden-Harris flippant attitude towards protecting the country's southern flank as they swore to do as part of their oaths of office. He chided the VP for completely avoiding "the epicenter of their self-inflicted crisis."
Governor Abbott has shown himself more than willing to do what he must for the citizens of Texas and to hold Biden and Harris accountable for their actions and lack thereof. He celebrated bus number 300, and in all likelihood, he will continue for another 300, or until the Democrats wake up to the humanitarian crisis they have caused.
Copyright 2022, WatchDogReport.org