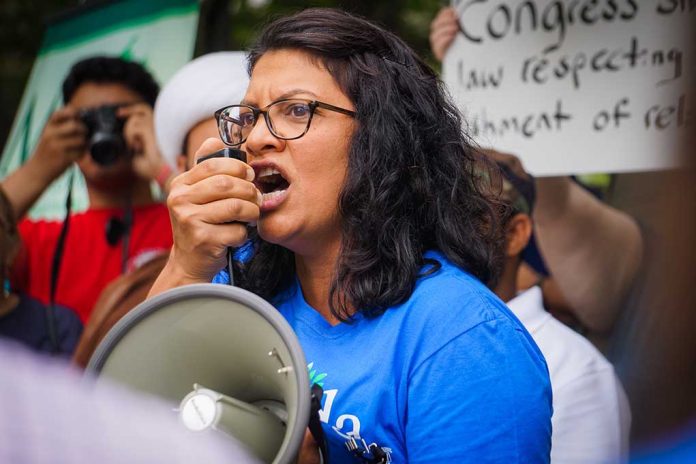 (WatchDogReport.org) – On February 2, House Republicans voted to remove Representative Ilhan Omar (D-MN) from the Committee of Foreign Affairs — nearly unanimously. The GOP members claim the ousting was in response to the Minnesota lawmaker's previous statements some considered anti-Semitic, but others think the move was payback for the Left's removal of two House Republicans during Congress' last session. At least two House Democrats, however, believe something far more sinister.
Before the vote, Representative Rashida Tlaib (D-MI) took the floor in defense of her colleague. The lawmaker accused the GOP of targeting Omar to "distract the American people" from realizing Republicans don't possess the ability to lead. Tlaib screamed from the podium that House members on the Right were "weaponizing hate" against Omar because she is Muslim. Her tirade ended with her crying into the microphone well past her time to yield.
Rep. Rashida Tlaib has a complete meltdown, screaming and crying over the resolution to remove Rep. Ilhan Omar from the Foreign Affairs committee. pic.twitter.com/5C4bbJnHwU

— Townhall.com (@townhallcom) February 2, 2023
Tlaib wasn't the only congressional member to jump to Omar's defense. Representative Alexandria Ocasio-Cortez (D-NY) also spoke out in support of her fellow Democrat. The New York lawmaker said after 9/11, racism against Muslim-Americans was rampant across the United States. She said ousting Omar was "an extension of that legacy."
Ocasio-Cortez referenced the time when she claims a Republican House member threatened her life, and the caucus rewarded him instead of punishing him. Her speech, like Tlaib's, was heated. Although Omar's time on the floor started a bit more subdued, she became passionate toward the end, promising to continue using her voice to "advocate for a better world" whether or not House members removed her from the Foreign Affairs Committee.
Representative Mike Lawler (R-NY) insisted Omar's removal was simply about "accountability," echoing House Speaker Kevin McCarthy's (R-CA) words on the day of the vote. According to CBS News, the speaker made it clear that the Minnesota representative is still welcome to serve on other committees in the House — just not the one dealing with foreign affairs.
Copyright 2023, WatchDogReport.org