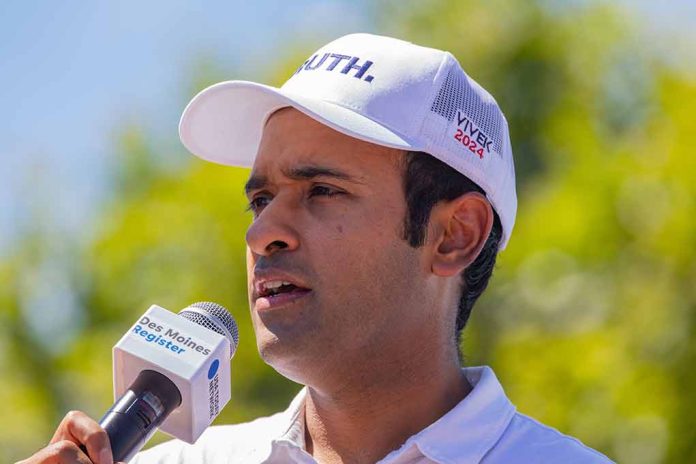 (WatchDogReport.org) – According to a recent NBC report, GOP presidential candidate Vivek Ramaswamy stated he would like Twitter CEO Elon Musk to be one of his administration's presidential advisers if elected. During a town event in Iowa, the conservative businessman told the crowd that after getting to know the South African billionaire and talking with him, he expects Musk to be one of his advisers.
Ramaswamy also said that Musk would be one of the most "interesting" individuals for this position, and he would formally make the proposal if he wins the 2024 presidential election. He then told the crowd that one of the reasons why he found Musk so riveting was because of what he did with Twitter (now known as X). Ramaswamy explained that the billionaire made a bold choice when he decided to lay off 75 percent of the company's employees, and he said this made Twitter a more effective social media platform.
This isn't the first time Ramaswamy has made these types of comments about the eccentric billionaire. One of Musk's most famous acts was his decision to release the company's internal documents about content moderation decisions under the previous leadership.
At that time, Ramaswamy wrote on his Twitter account that he would take a similar step if he became president and promised to release "state action files." He explained he would do this to expose every single occasion where federal enforcement agencies pressured American companies to take illegal actions.
Ramasamy's words about Musk's role as a presidential adviser came a couple of weeks after the South African billionaire praised him on his Twitter account. The moment came after the conservative businessman published a tweet where he said that his values include the belief that God "is real," and that there are only "two genders."
Following those words, the Twitter CEO commented on this tweet and said that Ramaswamy was a "very promising" GOP presidential candidate.
Copyright 2023, WatchDogReport.org