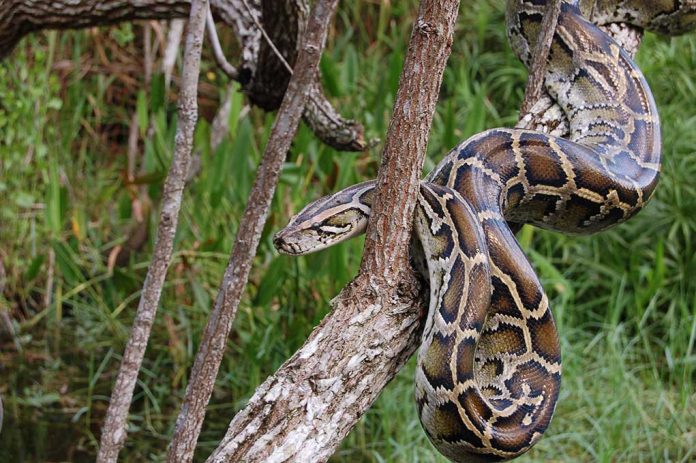 (WatchDogReport.org) – Americans in many states are allowed to buy and own exotic pets. Generally, if they're well taken care of, this isn't an issue. Unfortunately, that's not always the way it goes and authorities in Illinois just saw that first hand.
On October 20, the DuPage Forest Preserve Police shared photos on its Facebook page of a police officer, Sgt. Krist Schroeder holding a very long snake. The creature turned out to be a ball python, which is native to Africa. A woman called authorities after seeing the snake under her car at Herrick Lake Forest Preserve.
Schroeder responded to the call and grabbed the reptile.
A ball python, a snake native to Africa, was found at Herrick Lake Forest Preserve in DuPage County Wednesday. https://t.co/bU5YB66sJ5

— ABC 7 Chicago (@ABC7Chicago) October 21, 2021
Illinois isn't the only state grappling with residents releasing their pets into the wild. In Florida, the Everglades are overrun with exotic snakes and fish. The pythons are such a problem they're eating much of the native wildlife. The snakes have even swallowed whole alligators, not babies either — 6' grown reptiles.
The problem is so bad in Florida, the state has authorized python hunts where residents are allowed to kill the snakes to win prizes.
Back in Illinois, the DuPage Forest Facebook post reminded users that they shouldn't release their pets into the forest because it's against the law and the animals won't likely survive.
Copyright 2021, WatchDogReport.org