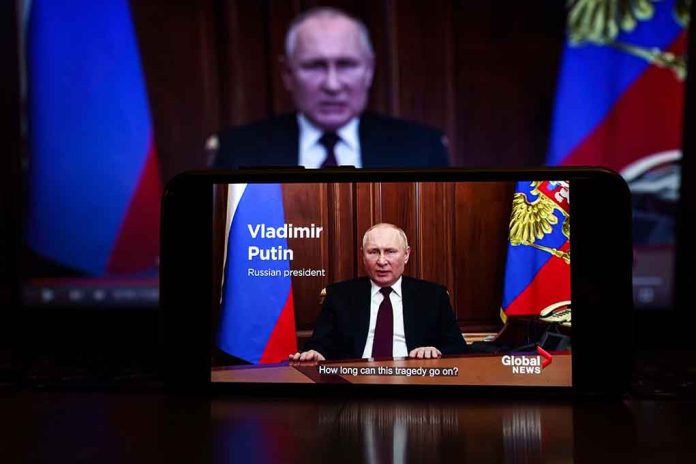 (WatchDogReport.org) – In a June 17 video that has raised controversy worldwide, Russian President Vladimir Putin appeared startled and confused by a basic question from a reporter. It all started after a group of pro-Russian bloggers asked him if he knew the exact location of Ukraine's Armed Forces Commander-in-Chief Valerii Zaluzhnyi. Putin appeared uncertain and nervous before responding that he thought he knew where Zaluzhnyi was, but said those who want to know should "ask him where he is."
Putin added, oddly, that to make this happen, people should "switch to another language" and said he thinks Zaluzhnyi is abroad. Finally, the Russian leader said he "may be wrong."
The strange interaction was caught on camera and immediately became viral on social media, with users claiming Putin seemed tense and uneasy. Experts say this behavior was unexpected as Putin has only allowed Pro-Kremlin reporters to be part of press conferences since the invasion of Ukraine in 2022.
The exchange between Putin and the journalists came after failed attempts by Russian propagandists to spread misinformation about Zaluzhnyi's death. Russia's state-controlled media has spread multiple statements about the Ukrainian military leader, including claims about his death or severe injuries he suffered that prevented him from fulfilling his duties.
Following these false reports, Zaluzhnyi released a video showing he was still alive and healthy, claiming that Russian news about him was false. His video sparked speculation in Russia about his exact location. The Kremlin hasn't provided any statement about Zaluzhnyi since his video was released.
On June 18, Ukraine's Deputy Defense Minister Hanna Malyar said in a written statement that losing Ukrainian generals in war could alter the course of the conflict. He asked for Western allies to keep helping Ukraine in its defense against Russia and criticized Moscow's disinformation tactics. Malyar explained that this is a deliberate act that the Kremlin employs to demoralize Ukrainian soldiers in their counteroffensive operations.
Copyright 2023, WatchDogReport.org