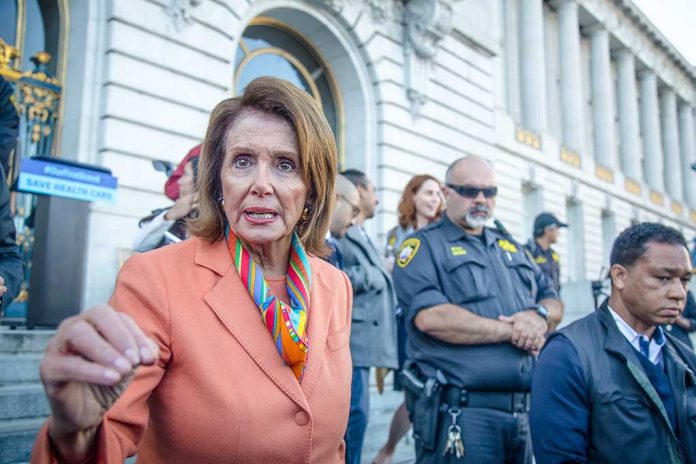 Nancy Pelosi TARGETED – They're Outside Her HOME
(WatchDogReport.org) – The Democrats have spent decades inflaming their voter base over hot button issues so they can appear to be the party of the people. Included in that list of topics is the 1973 Supreme Court decision regarding abortion in Roe v. Wade. When a draft opinion from the justices was recently leaked that appears to reverse that decision, activists on the political Left went berserk.
Speaker of the House Nancy Pelosi (D-CA) was happy to cheer them on and encouraged them to vent their "righteous anger" by picketing the homes of conservative justices. Now, it seems that advice may have just turned around and bit her on the … well, you know where.
Pro-choicers picket Pelosi's house, claim Democrats are 'complicit' in potential overhaul of Roe v. Wadehttps://t.co/0w4EmPJY5g#leftwingradicals #lefrwingextremists #leftwingterrorists #violent #abortion #NancyPelosi

— Dougeldridge1 (@Dougeldridge12) May 11, 2022
A group of pro-abortion leftists has descended upon the Speaker's San Francisco home because, as they see it, she and the other Democrats have been complicit in creating an atmosphere where this type of decision is even possible. One protester, who has been quoted in several articles published on the matter, went back in time to point the finger at President Bill Clinton for saying abortion should be "rare" — although she incorrectly attributed it to Hillary.
Perhaps now, President Joe Biden's administration will answer a question that many Conservatives are asking of Attorney General Merrick Garland: Why isn't the Department of Justice (DOJ) stepping in to stop these protests?
Under 18 U.S.C. §1507, these types of gatherings are a crime when they aim to intimidate judges and justices into ruling in a particular manner. There has been a deafening silence from the administration as to whether or not this statute should apply in these situations.
Copyright 2022, WatchDogReport.org