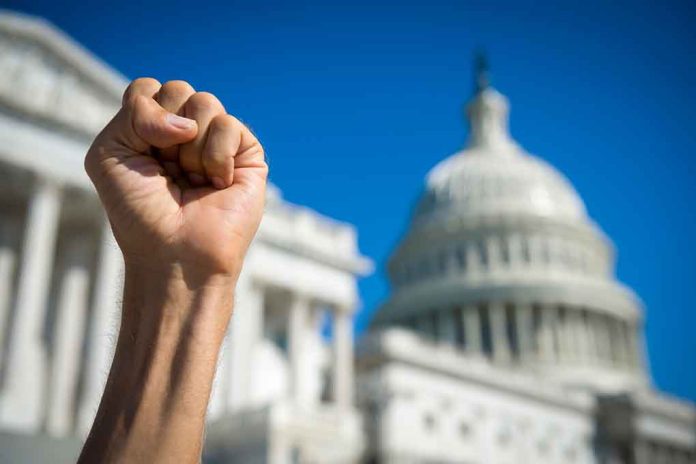 (WatchDogReport.org) – CODEPINK describes itself as a grassroots feminist movement that promotes peace, supports human rights initiatives, and works to end US warfare and imperialism across the globe. Established in 2022, members organize and spread their message by wearing pink, civil resistance, challenging lawmakers and businesses, signs, and street theatre. Over the last couple of months, the group has been in the news for its initiatives.
On March 22, The Epoch Times reported that CODEPINK protesters interrupted a Senate Foreign Relations Committee congressional meeting. Not only did they hold signs throughout the meeting, but the group members also started yelling over senators, declaring that "China is not our enemy" and accusing the US of "terrorism." The protest was so disruptive, the police had to remove the offenders. Committee Chair Bob Menendez (D-NJ) responded to the disruption, saying it was okay when the protesters just held signs, but disrupting the meeting through vocal outbursts was not acceptable.
BREAKING: CODEPINK's @medeabenjamin disrupts a Senate hearing with @SecBlinken to tell him to stop being a war hawk and start being a diplomat!

We need peace talks now for #PeaceInUkraine! pic.twitter.com/qp51bU6Hf8

— CODEPINK (@codepink) March 22, 2023
The CODEPINK protesters also called for the US to accept China's "peace plan" and blamed America for the Ukraine invasion. Menendez suggested the women ask the Uyghur people in China if they think Chinese President Xi Jinping is any kind of peacemaker. The Epoch Times noted the protesters have been promoting anti-American rhetoric for years.
This incident wasn't the first time the organization interrupted a congressional proceeding. On February 28, the Daily Mail reported that protesters attended the 118th Congress' first primetime hearing about China, pushing the same narrative that the Asian nation is not America's enemy. Roughly one week before that, the activists bombarded President Joe Biden at a restaurant in Washington, DC. According to Fox News, they demanded he "push through negotiations" between Russia and Ukraine to end the war.
After the run-in with the US leader, the group bragged about the encounter on Twitter.
Copyright 2023, WatchDogReport.org