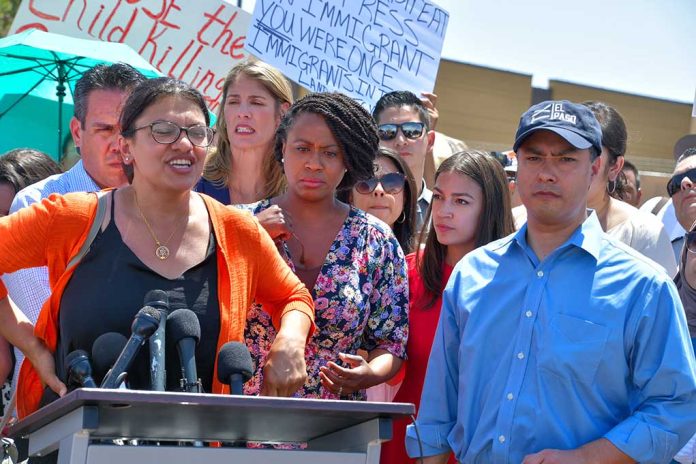 (WatchDogReport.org) – According to a recent Fox News report, the progressive faction of the Democratic Party is advocating to stop landlords from conducting criminal background checks on potential tenants before renting their property. The network reported that new legislation introduced by the "Squad" aims to prevent consumer reporting agencies from including criminal history in reports used to evaluate prospective renters.
The "Squad" is the informal name for a group of progressive leftist members of the House and includes Rep. Alexandria Ocasio-Cortez (D-NY.) and others.
The new bill calls for removing criminal convictions older than seven years from consumer reports. It also creates a "national standard" for criminal information not included in these reports.
While the bill is unlikely to pass the Republican-controlled Congress, it shows where radical Democrats are eyeing reforms as the presidential election gets closer. The legislation comes as many American "blue cities" still deal with high crime rates that peaked during the pandemic.
Responding to the bill, some Republicans argued that landlords in the country have the right to know the criminal records of potential tenants. During an interview with Fox News, California Representative Mike Garcia said that if the goal is to increase affordable and safe housing options, this bill is the wrong answer. He also said this legislation is the greatest example of a bad housing policy, adding that California's housing challenge will "worsen " if approved.
In a statement, Indiana representative Jim Banks blasted the legislation and compared it to the radical left's calls to defund the police. He said that this legislation shows that the radical faction of the Democratic Party prioritizes "criminals over law-abiding citizens."
Michigan Congresswoman Rashida Tlaib, one of the Squad members who introduced this legislation, said in a press release that the bill would stop "housing discrimination." She also said that this legislation means to prioritize compassion and "restorative justice" in the country. Finally, she said this legislation will allow Americans to reestablish their lives in their communities.
Copyright 2023, WatchDogReport.org