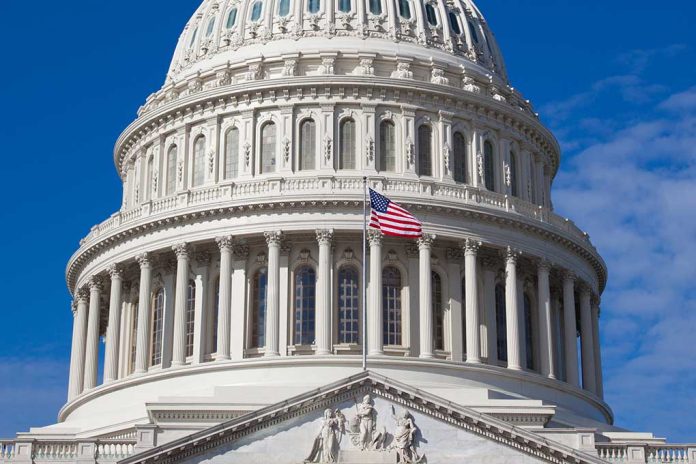 (WatchDogReport.org) – The US Senate currently sits in a 50:50 split between Republicans and Democrats. That shift happened after the GOP lost both of their Georgia Senate seats. They're now hoping to win back their lost power by 2022 — and one recent poll confirms they might have a decent shot at winning in New Hampshire.
There are rumors that Governor Chris Sununu (R) could run for a seat in the upper congressional chamber; Republicans believe he might be the key to taking back control.
Republicans are courting New Hampshire Gov. Chris Sununu to help regain control of the Senate by taking on Democratic incumbent Maggie Hassan in 2022. https://t.co/0aNJVXoOLT

— NBC Politics (@NBCPolitics) July 25, 2021
What they see in Sununu is multilayered. The governor stands the best chance of overcoming his competition, Democrat Maggie Hassan, simply because he's popular within the state. But he also has a history of taking a moderate approach to former President Trump, neither overtly supporting him nor speaking out against him.
That's a welcome boon at a time when Republicans are so split on the subject. But even Trump himself feels Sununu would make an excellent choice. He recently endorsed him for the role, suggesting he would "probably poll the highest."
Sununu also has a significant amount of support from other GOP members. Both Minority Leader Mitch McConnell (R-KY) and Senator Rick Scott of (R-FL) have implored him to run over recent weeks. Of course, threatened Democrats don't share the same glowing views.
A recent Granite State Poll related to a hypothetical match between the governor and Senator Maggie Hassan (D). The results were statistically tied 49% to 48% respectively, with 2% undecided.
Hassan almost lost her Senate seat in 2016. If Republicans play their cards right, perhaps choosing Sununu to lead in New Hampshire, they have a good shot at taking the seat back. If they hold all of their other seats, it would net them a win.
Copyright 2021, WatchDogReport.org