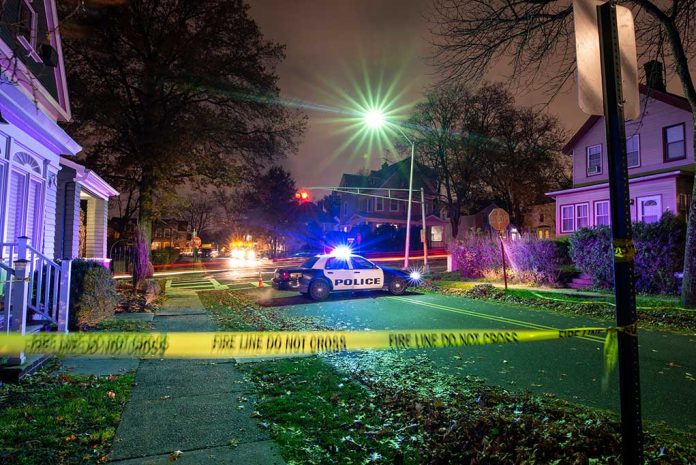 (WatchDogReport.org) – It's no secret that soft-on-crime Liberals and their policies have led to a sharp increase in violent crimes across the United States, with many police officers taking the brunt of it and many times paying for it with their lives. Fortunately, the Scottsdale Arizona Police Department and the family of Sergeant Scott Galbraith will not suffer the same fate of having to bury an officer after he was shot in the abdomen on the evening of January 6. His alleged attacker was not as fortunate.
We are grateful to announce our injured Sergeant has been released from the hospital and returning home for continued recovery. A big thanks to all the members of the community for their outpouring of support for the Sergeant, his family, and the department.

— ScottsdalePD (@ScottsdalePD) January 8, 2023
Sgt. Galbraith and other detectives were looking for 37-year-old Kenneth Hearne and were in the midst of executing a search warrant at a downtown Phoenix apartment, when things went wrong. As the officers entered the unit to conduct their search, where a woman told them she was alone with her child, they spotted someone they believed to be the suspect ducking into another room. Bullets then erupted through the wall, allegedly fired by Hearne.
Police say Hearne then jumped from the second-story balcony and escaped while Galbraith was rushed to the hospital for treatment. He has since been released and is expected to make a full recovery. Police began searching for the suspect. Hearne was spotted while officers were following up leads in Tempe when he allegedly pulled a gun on them and was injured in the ensuing shootout. He was later pronounced dead at the hospital.
According to the Gun Violence Archive, there have already been seven incidences of police officers coming under fire in 2023 as of January 9, with one death. On January 2, Brackenridge, Pennsylvania, Police Chief Justin McIntire was killed in the line of duty while Tarentum Officer Jordan Schrecengost took a bullet to the leg.
A report from the Fraternal Order of Police (FOP) said that as of December 19, 2022, 323 officers were shot in the line of duty since January 1 of the year; 60 of them died. This represented a 28% increase for the same period in 2020. The FOP also reported 87 ambushes against law enforcement in that timeframe, where 124 were injured and 31 were killed in the attacks.
Copyright 2023, WatchDogReport.org