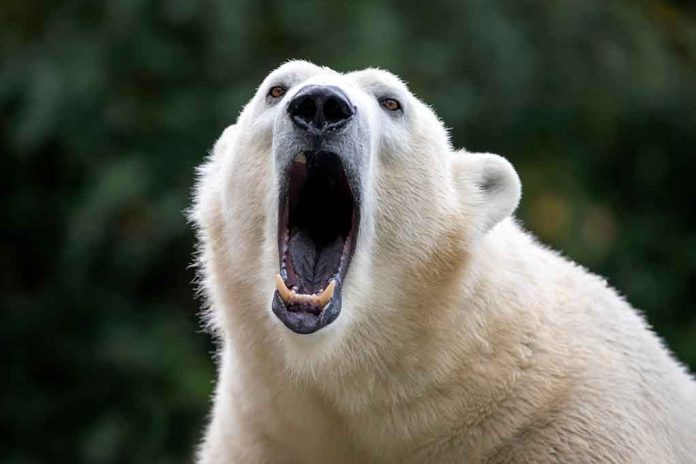 (WatchDogReport.org) – As the Arctic ice cap continues its recent pattern of shrinking, increasing numbers of polar bears have begun gravitating toward land. Unfortunately, the powerful predators' keen sense of smell attracts them to stored food supplies, human waste, and pets, resulting in a threat to human life and property. Tragically, one of those massive animals recently terrorized a remote Alaskan village, killing two people.
On January 17, the Alaska Department of Public Safety issued a press release detailing the fatal attack. According to the statement, Alaska State Troopers received a report that a polar bear had chased residents in Wales, a village of fewer than 200 people located on the state's west coast and flanked by the Bering Strait.
A local resident shot and killed the bear, but not before it killed 24-year-old Summer Myomick and her 1-year-old son, Clyde Ongtowasruk. Investigators later determined the attack occurred near the village's K-12 school.
Local NBC affiliate KTUU-TV reported that the school's principal called the Bering Strait School District's chief administrator, Susan Nedza, during the attack. The principal placed the school in lockdown and moved the students to a location where they couldn't observe the deadly struggle.
Alaska State Troopers have identified the victims in yesterday's polar bear attack on the Seward Peninsula. https://t.co/iXkgOnpABu

— Alaska's News Source (@AKNewsNow) January 18, 2023
Nedza told KTUU that school officials tried to stop the attack using shovels. Sadly, they were unable to save Myomick and her son.
Officials closed the school for the rest of the week. However, Nedza said students could continue to use the gym and cafeteria. They were also encouraged to meet with teachers and other staff members.
Nedza confirmed the school district flew in a team from the nearby Norton Sound Behavioral Health Center and a school counselor to work with students and community members.
Myomick and Ongtowasruk's bodies were transported to the state medical examiner's office for an autopsy. State Troopers and officials from the Alaska Department of Fish and Game opened an investigation into the incident.
Copyright 2023, WatchDogReport.org