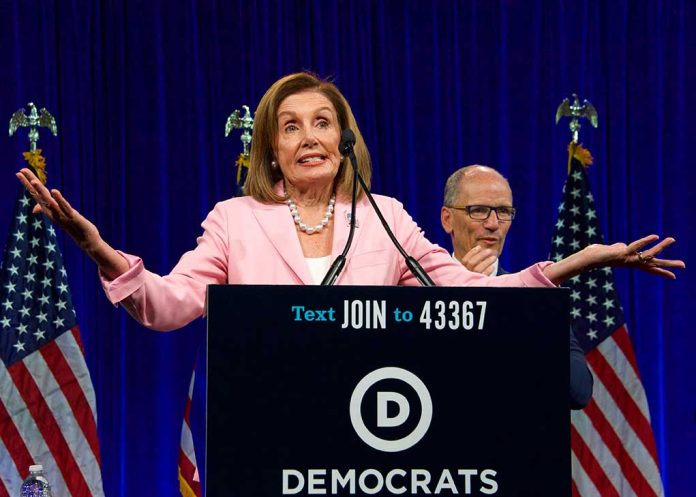 (WatchDogReport.org) – In January 2011, House Speaker Nancy Pelosi (D-CA) posted a 50-year-old picture on Facebook of herself and former President John F. Kennedy. The image resurfaced on Reddit and went viral in a matter of hours on March 18, causing many to comment on how long Pelosi has been in politics. Although it may be admirable for someone to serve the American people for so long, it also brings up questions regarding term limits for those in Congress.
The Criticism
The Reddit post generated more than 21,000 votes and many comments about Pelosi's years in her seat. One commenter said US politicians are dinosaurs, while another asked for a picture of her next to Abraham Lincoln. While the remarks may have been posted partially in jest, the sentiment highlights the fact that many politicians in Congress remain in their positions for extended periods of time. Their presence may hold younger politicians back from advancing in the field and prevent new perspectives in Congress because of the lack of term limits.
Current Terms
A Rasmussen poll from October 2021 showed 82% of voters think members of Congress should have term limits. The bipartisan view encompasses 87% of Republicans and 78% of Democrats surveyed. Currently, congressional members serve their elected term of two years in the House of Representatives and six years in the Senate. However, unlike the President of the United States, who can only serve for two terms, those in Congress have no limit on the number of times they can run, win, and serve in the seat. A few legislators have introduced bills to amend the Constitution and limit congress members' terms over the last few years, but none have passed.
Pelosi Past and Future
Pelosi began serving in Congress in 1987, but she has been around politics all her life. Her father was Thomas D'Alesandro, Jr., a former Baltimore Rep. and mayor, and he stoked her interest in politics at a young age. She recently announced her 18th run for Congress after rumors swirled of her possible retirement, saying US democracy is "at stake," and that is why she decided to run again.
The California legislator became Speaker of the House in 2007, but there's no word yet on whether she will try and retain the position in 2022. She previously stated her intention to step aside and let a new crop of politicians rise up in her place, but that remains to be seen.
Given the negative reactions to her picture next to Kennedy from 1961, many wonder if there's such a thing as someone serving the country for too long. Do you think there should be term limits for all elected officials?
Copyright 2022, WatchDogReport.org