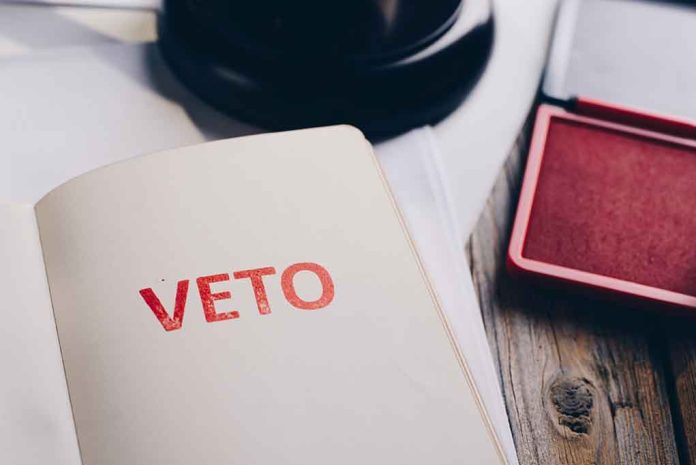 (WatchDogReport.org) – Committed to the energy goals closest to his heart, President Biden plans to veto a resolution that would restore taxes on solar panel equipment components made in China. Biden and the Department of Commerce froze solar panel tariffs in the summer of 2022. He intended to boost the solar installation business in America, providing factory jobs for assembling parts manufactured within China.
Congressional lawmakers argue it is time to get back to business and stop providing tax cuts to American adversaries. The proposed resolution to unfreeze tariffs has support from both sides of the aisle in Congress. Biden will likely veto the bill, but a subsequent two-thirds majority in both the House and Senate could override the potential veto.
Biden refers to the importance of combating climate change and the need for reliable energy sources. He labels the proposed taxation as a hindrance to those efforts and a threat to the jobs created by solar energy companies, imports, and markets.
If Biden does act as expected, the veto will be his third. Both previous vetoes involve shutting down attempts to oppose his climate change policies and goals. Biden's first veto scrapped a GOP plan to stop the government from including environmental impacts when considering retirement plan details for Americans.
His second veto regarded federal definitions and protections under his Waters of the United States rule. GOP lawmakers desired a less-encumbered approach to business, but Biden wanted permits required to approve construction or mining businesses that may operate near waterways around the country.
The veto trend is clear for the Biden Administration, tending toward leftist goals for green energy at all costs. Biden's policies are well known for attacking the oil and gas industry with attempts to eliminate all gas-powered vehicles by the middle of this century. At this point, green energy progress prompts further reliance on Communist China and other adversaries to use components mined and manufactured by them.
Copyright 2023, WatchDogReport.org