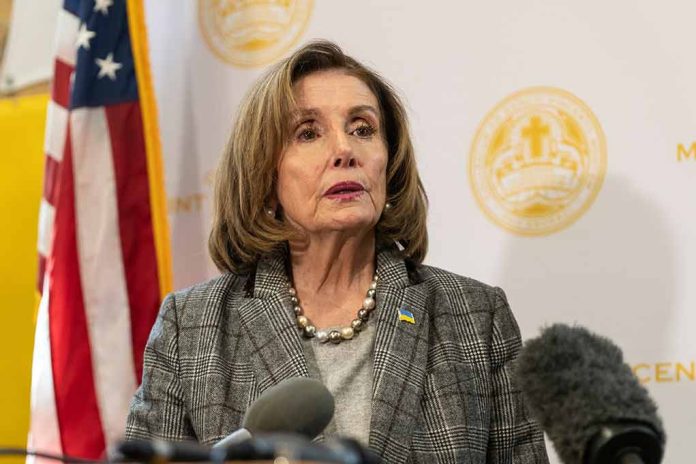 (WatchDogReport.org) – Former President Donald Trump said on September 17 that former House Speaker and Democratic leader Nancy Pelosi was "responsible" for the Capitol riots that took place on January 6, 2020. During an interview with NBC's "Meet the Press," the presidential candidate said that Pelosi was to blame as she was in charge of security and decided to turn down 10,000 soldiers. He then claimed nothing would've happened if she didn't commit this mistake.
In his appearance with NBC, which was Trump's first interview with a mainstream network since leaving office, he refused to answer a question about whether he called law enforcement or the military that day. Instead, he told host Kristen Welker he behaved well and did "such a good job." Trump then said that the Capitol police testified against Pelosi, but claimed they "burned" and destroyed every single piece of evidence that might incriminate her.
When asked if he had any responsibility for being the commander-in-chief, Trump stated that Pelosi was the political figure with the most authority over the Capitol at the time. He told the NBC host that he asked the former House Speaker to deploy the National Guard "three days in advance" but said she declined his request.
Welker then pressed the presidential candidate by claiming Pelosi has consistently said that the request was never made. Trump responded that the mayor of Washington, DC, gave his administration a letter that said she was officially turning down the request. He also said that his team had the letter, and claimed that Pelosi was one of the central officials responsible for what happened that day. Trump then noted that it was a "disgrace" that the January 6 Committee has so far refused to interview the former House Speaker.
Following this interview, a Pelosi's representative told Fox News that the Republican leader's allegations against her were "made up."
Copyright 2023, WatchDogReport.org