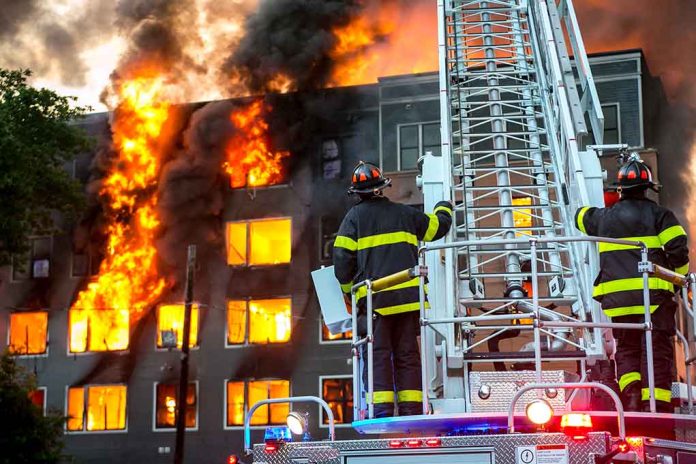 Multiple Dead After Military Aircraft Crashes Into Building
(WatchDogReport.org) – The loss of a military aircraft is not always a result of enemy action, nor is the loss of life restricted to those in the armed forces. Both of those facts were on painful display in the Russian port city of Yeysk when a Su-34 "Fullback" supersonic fighter bomber crashed into a civilian apartment building shortly after takeoff.
A Russian military jet has crashed into a residential building shortly after taking off near the border with #Ukraine, sparking a major fire that has reportedly left at least six people dead and six missing. https://t.co/aV1tXBGAoz

— Francisco Taveira (@jftaveira1993) October 17, 2022
According to the state-run news site Tass, as of the afternoon of October 18, the death count stands at 15 after the aircraft slammed into the building's courtyard, igniting the onboard fuel. Quoting the country's Defense Ministry, the outlet reported that as the plane began the climb, an engine caught fire, forcing the pilots to eject.
The English language Sputnik News said the Emergencies Ministry announced three of the dead were children; 68 people were rescued, and more than 360 were evacuated from the area. This is not the only accidental crash of Russian military aircraft since President Vladimir Putin invaded Ukraine at the end of February.
Published reports say at least nine others have also gone down, including an Ilyushin Il-76 military cargo plane during an attempted landing. That accident, which took place in June, killed four and hospitalized five others. Further, Russia's Investigative Committee confirmed in a post to its Telegram page it has initiated a criminal investigation into the pilots and ground crew, looking for any violations of flight rules.
Copyright 2022, WatchDogReport.org