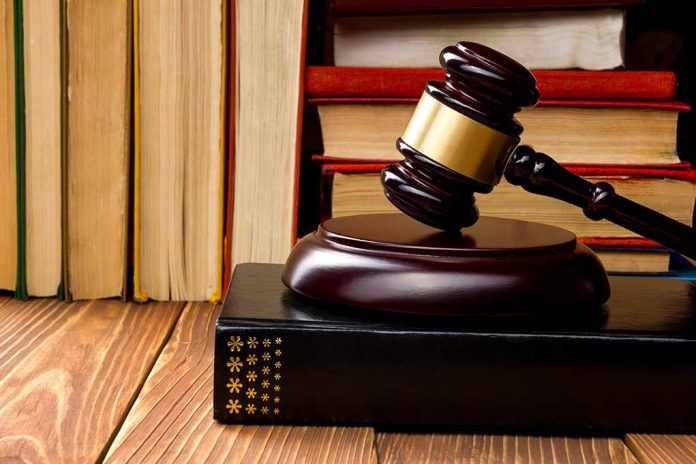 (WatchDogReport.org) – Traci Soderstrom, a District Judge in Lincoln County, Oklahoma, is accused of playing on her cell phone during a murder trial in Chandler, OK. An overhead courtroom security camera captured video of Soderstrom holding her phone in her lap below the Judge's bench while messaging, scrolling Facebook, and searching for a GIF (animated image). She occasionally placed the phone in an open drawer when it wasn't in use. These actions were not visible to the courtroom, only to the overhead camera, which the Sheriff's Office monitors.
District Attorney Adam Panter received a tip about Judge Soderstrom's behavior during the trial and requested the camera footage. Sheriff Charlie Dougherty provided the video for review. Panter discovered Judge Soderstrom had used her phone for hours during the trial.
This occurred during the trial of Khristian Tyler Martzall. Martzall was charged with beating his girlfriend's two-year-old son, Braxton Danker, to death in 2018. Prosecutors asked that Martzall be convicted of first-degree murder. He was convicted of the lesser charge of second-degree manslaughter and sentenced to "time served." He has been incarcerated since he was arrested in 2018.
During a trial, jury members are instructed to turn off or put away all electronic devices. Their attention is required to remain focused on the facts and details of the trial. Judges are held to the same standard.
The security footage hasn't been released to the press but was reportedly leaked to The Oklahoman newspaper. Judge Soderstrom has refused comment stating that the case is still pending; therefore, the verdict could still be appealed if she were to speak about anything involving the trial. Council director Taylor Henderson informed the press that investigations into the misconduct of judges is a private matter and declined to comment further.
Judge Soderstrom was sworn in on Jan 9, 2023. This was her first trial. Her term ends in 2027.
Copyright 2023, WatchDogReport.org