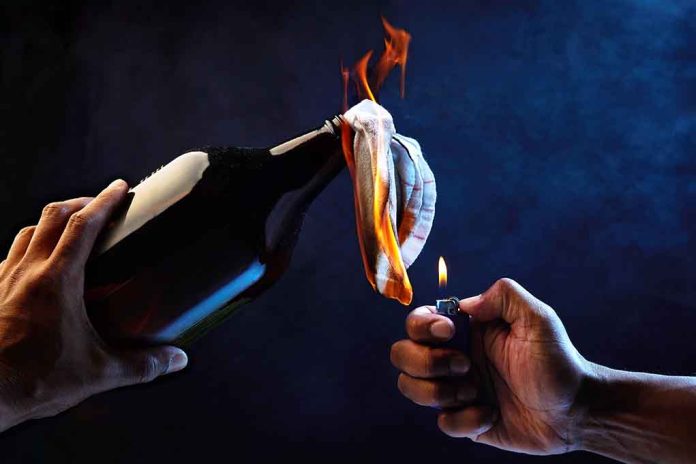 Officers KILL Suspect – Explosive Devices Reported
(WatchDogReport.org) – Molotov cocktails have found their way into the headlines several times in recent months, but what are they? Typically, they're manmade weapons created with flammable liquid. When lit and thrown, the container shatters causing the fluid to ignite and spread, thereby starting a blaze.
Unfortunately, these homemade firebombs are just the latest weapons in the increasing wave of violence across the country.
Raleigh, North Carolina
On the afternoon of May 7, a man approached the police station in the city and began throwing Molotov cocktails into the parking lot, setting a police vehicle on fire. Four officers confronted him and ordered him to stop.
Sadly, he did not heed the warnings and threw another one near one of the officers, setting a second patrol car on fire, at which time they drew their weapons and shot him. Although they made efforts to resuscitate the man, he succumbed to his wounds and died at the scene. As of early evening on May 9, he has yet to be publicly identified.
Madison, Wisconsin
Local police, FBI, and ATF agents are investigating after arsonists set the offices of Wisconsin Family Action ablaze on the morning of May 8. The city's Chief of Police Shon Barnes called it a hate crime, "…where a specific non-profit group was targeted for their beliefs regarding the issue of abortion."
Supreme Court Leak
Chief Barnes' statement references the now widely reported leak of a draft opinion written by Justice Samuel Alito in the Mississippi case of Dobbs v. Jackson Women's Health Organization. If finalized, it appears to overturn the 1973 decision in Roe v. Wade. Just the mere thought of that has sent liberal politicians, activists, and media personalities into an absolute manic rage.
Speaker of the House Nancy Pelosi (D-CA), who should — should — understand how the US government is supposed to work, has been encouraging the liberal mob to use their "righteous anger" and stage protests at the very homes of the conservative justices.
Wider Issues
Since the protests-turned-riots seen in the summer of 2020 by Black Lives Matter (BLM) and Antifa, violence targeting law enforcement and violent crime, in general, has increased. According to statistics from the Fraternal Order of Police (FOP), for the first 4 months of 2022, 123 police officers had been shot in the line of duty, an increase of 38% over 2020.
To make matters worse, liberal prosecutors from across the country seem to be doing their best to keep prison cells empty. One example comes from Fairfax, Virginia, where the Commonwealth's Attorney has reportedly stopped prosecuting 20 different crimes, with predictable results — like the doubling of the murder rate under his watch.
While the use of a few Molotov cocktails might not seem like a crime wave, it's certainly indicative of the increasing violence taking place all across the country.
Copyright 2022, WatchDogReport.org