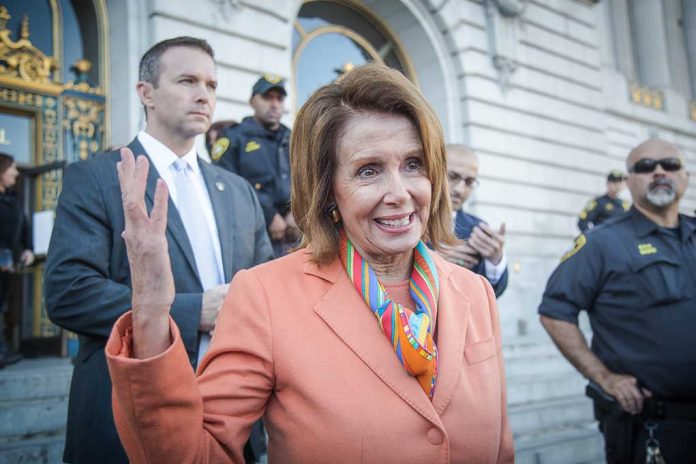 (WatchDogReport.org) – In the weeks after the 2020 election, Republicans were attacked repeatedly by the Left for questioning the election results. Those condemnations reached a fever pitch after the January 6 joint session of Congress, where a number of GOP lawmakers objected to the Electoral College votes in some states.
Now, Speaker of the House Nancy Pelosi (D-CA) is meddling in another state's election, and Republicans are calling out her hypocrisy.
Iowa Election
In November 2020, Rep. Mariannette Miller-Meeks (R-IA) won her race for US Congress by just six votes. The win was announced after the Democratic candidate Rita Hart called for a recall when she was 47 votes down. The state recounted and at the end, Miller-Meeks was still the winner. On January 3, the Republican was sworn into Congress and she's now serving on Capitol Hill.
Democrats are not happy about the election results, though. After months of criticizing Republicans for wanting recounts during the presidential election, the Left is now reportedly considering a scheme to steal the Iowa congressional seat. According to reports, the House Administration Committee opened an investigation into Miller-Meeks' win. Speaker Pelosi could put a stop to the partisan probe, but has not spoken out against it.
Outrage Crosses Party Lines
On March 24, Rep. Nancy Mace (R-SC) slammed Pelosi for allowing the investigation to continue after the state decided the winner of the race and two months after Miller-Meeks was sworn in. The congresswoman said the Speaker's "hypocrisy knows no bounds." She pointed out how the Democratic leader claims there isn't voter fraud, but then says there was "voter fraud so [they've] got to overturn the results."
Rep. Dean Phillips (D-MN) said an attempt to overturn the election would be "painful for America."
Losing a House election by six votes is painful for Democrats. But overturning it in the House would be even more painful for America. Just because a majority can, does not mean a majority should. https://t.co/pXaOYBIMue

— Rep. Dean Phillips 🇺🇸 (@RepDeanPhillips) March 22, 2021
The truckload of audacity the Democratic Party is driving after all of the screeching in the wake of the presidential election when Republicans wanted to investigate allegations of fraud is astounding. You just can't make this stuff up.
Copyright 2021, WatchDogReport.org