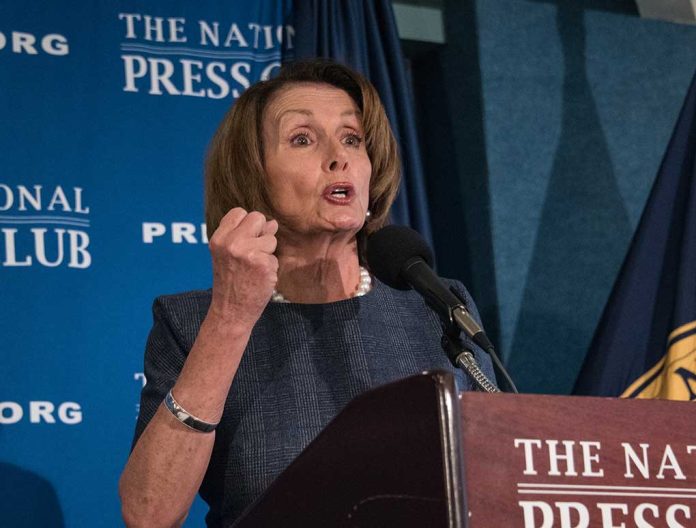 Nancy Pelosi Caught on Camera Threatening Donald Trump
(WatchDogReport.org) – There's still a lot of debate surrounding who incited the riots that broke out on Capitol Hill on January 6, 2021. One person who definitely had violence on her mind was Speaker of the House Nancy Pelosi (D-CA), as shown in the recently released video of her expressing a desire to punch then-President Donald Trump.
The speaker of the house said on January 6 that she would go to jail for "punching" Trump out but she was "gonna be happy" because of it. https://t.co/9Uwo6Bpg26

— Newsweek (@Newsweek) October 14, 2022
CNN obtained exclusive footage of Pelosi when she was told that the Secret Service had "dissuaded" the president from coming down to the Capitol building. According to the article, Pelosi seemed to think this might give her the opportunity to do something that she had been looking forward to, saying, "I'm going to punch him out … for trespassing on the Capitol grounds."
One might have expected outrage at the thought of one senior elected official contemplating violence against another, especially when the target was the sitting POTUS. Instead, the Left is hailing Pelosi as a hero, with many calling her a "bada**." Contrast this with the calls for the resignation of Minority Leader Kevin McCarthy (R-CA) when he jokingly said if he had the opportunity to pick up the speaker's gavel, he would have a difficult time stopping himself from hitting Pelosi over the head with it.
When Speaker Nancy Pelosi learned that Trump wanted to come to the Capitol while it was under siege, she said "I hope he comes, I'm going to punch him out." She'd have done it too, because she's just that much of a badass.

— Palmer Report (@PalmerReport) October 14, 2022
It was also reported that Pelosi recognized she would probably go to jail for her act and she would happily do so.
Copyright 2022, WatchDogReport.org