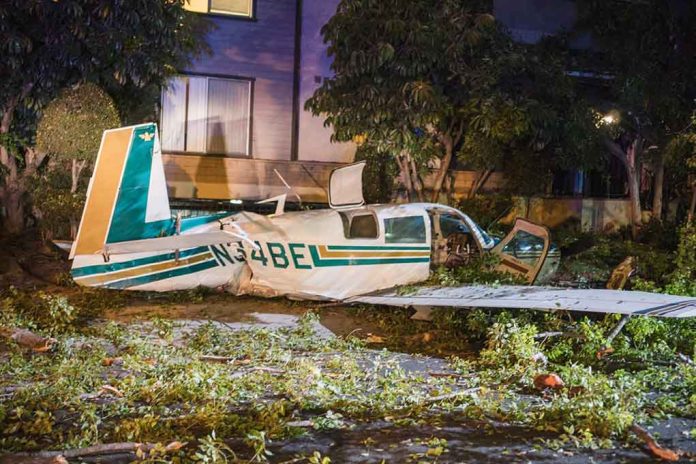 Mystery Plane Crash Leaves Power Grid Down
(WatchDogReport.org) – Everybody has their hangups, but for most people, it's not generally as literal as dangling 100 feet above the ground. That, however, is exactly the position the pilot of a small single-engine airplane and his passenger found themselves in near Gaithersburg, Maryland, on the evening of November 27, after hitting high-tension wires and plunging at least 85,000 households into darkness.
Most of Montgomery County is without power because of the plane crash. 😱 pic.twitter.com/tUeNm2AV0x

— DC Maryland Virginia (@DMVFollowers) November 28, 2022
Police identified 65-year-old Patrick Merkle of Washington, DC, as the pilot and owner of the plane and 66-year-old Jan Williams of Louisiana as the passenger. The pair were making their way back from White Plains, New York, heading for the Montgomery County Airpark when the aircraft, identified as a Mooney M-20, got tangled in high-tension wires near a tower.
Merkel and Williams were forced to spend several hours hanging in the power lines while crews worked to de-energize and ground the electric tower, secure the airplane, and remove the victims. Both were taken to a local hospital with non-life-threatening injuries. The Federal Aviation Administration (FAA) and the National Transportation Safety Board (NTSB) will be investigating to determine the cause of the accident.
In this case, there were no fatalities involved, but that's frequently not the case. Recent small plane crashes in Winston-Salem, North Carolina, Snohomish, Washington, and North Platte, Nebraska, resulted in eight people losing their lives.
Copyright 2022, WatchDogReport.org