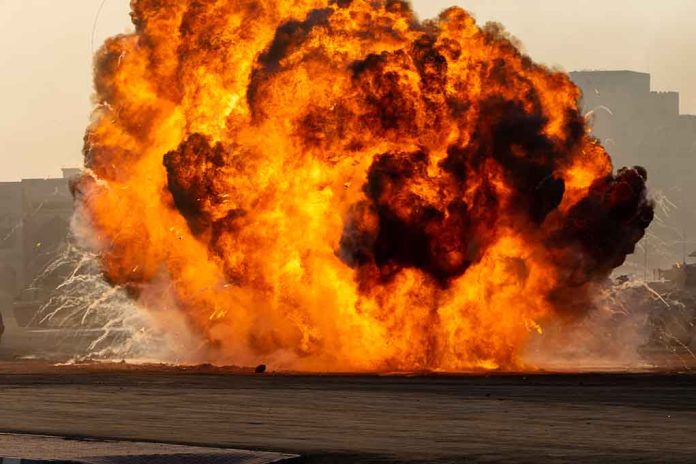 (WatchDogReport.org) – On March 1, Newsweek reported that Russia's defense ministry believes Ukraine is targeting Russia's infrastructure using drones. Governors from the Belgorod and Kursk regions also accused its neighbor of firing ammunition across the border. Ukrainian President Volodymyr Zelenskyy's adviser, Mykhailo Podolyak, denied the allegations. He reportedly took to Twitter, saying his country is only engaging in a "defensive war" to push the Russians out of its territories.
The next day, there was a mysterious explosion close to Moscow — in Kolomna — leaving officials wondering what was happening within their borders. Footage on social media showed people describing the incident, saying there was a whistling sound followed by a blast, smoke, and a glow. According to the source, there's a widespread belief the explosion was a drone because the event happened "in the air." However, Tass, a Russian-run news source, said it was unconfirmed because no drone pieces had been recovered at the scene.
Mystery explosion less than 100 miles from Moscow leaves Kremlin confused https://t.co/dC7xchw9YW pic.twitter.com/CKyAEIMPJl

— Newsweek (@Newsweek) March 3, 2023
According to PBS, Russian officials had recently accused Ukraine of crossing the border into the motherland and attacking innocent civilians in local villages in Russia. The alleged incident took place in the Bryansk region of the country. The news source said, if true, the event- combined with the reported sightings and other alleged drone strikes– might indicate that Ukraine is becoming more aggressive to goad Moscow into exposing potential weaknesses in its defensive measures. Ukraine denied any attacks on civilians. Russian President Vladimir Putin called the alleged attack the work of "terrorists."
Putin is using the supposed incident as justification for his invasion of Ukraine. He said the attacks are the work of "neo-Nazis" that he's trying to eradicate from the sovereign nation.
Podolyak called Putin's words a scare tactic to convince his people that the war he started was just. PBS stated the official indicated Russia perpetrated the attack to frame Ukraine.
Copyright 2023, WatchDogReport.org