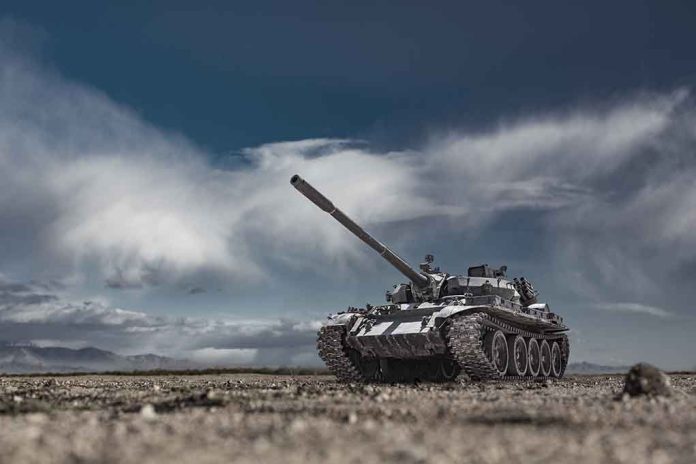 (WatchDogReport.org) – Russia has continued its aggression against Ukraine, with tanks and vehicles storming through various parts of the country. Most notable on the side of many of the vehicles is the letter Z, but it's unclear exactly what it means. The Ministry of Defense in Russia claims the Z symbolizes victory, while others say it's to avoid friendly fire or marks those ready to attack. No matter what it actually stands for, the letter Z has become a symbol of Russian President Vladimir Putin's war.
Images of the white 'Z' emblem are commonly seen on social media, stylised in thick brushstrokes. The emblem has also been seen on T-shirts of many protesters, particularly those supporting #Russia. Here is all you need to know. https://t.co/S6zIcSYyWd

— The Quint (@TheQuint) March 9, 2022
After seeing the white Z scrawled on Russian vehicles, other pro-Russia individuals are using it to show their loyalty to Putin and his conquest. For example, on March 5, Russian gymnast Ivan Kuliak won the bronze medal during the Artistic Gymnastics World Cup in Qatar and accepted the prize with a Z emblazoned on his shirt. In addition, Russia Today is selling t-shirts with a Z for anyone who wants to show their support.
Although it's now a pro-Russia symbol among many, experts are still speculating on its meaning. The Z is often just written in bold white by itself, but other times it is within a triangle with lines on both sides, two triangles, diamond shapes, or a circle with dots. Perhaps each iteration signals something different.
Some experts believe the Z stands for Zelenskyy as the Russian's ultimate target. Russian analyst Rob Lee thinks the letter marks "different task forces," while former Director of Defence Michael Clark believes it's to show the vehicles' destination.
Copyright 2022, WatchDogReport.org