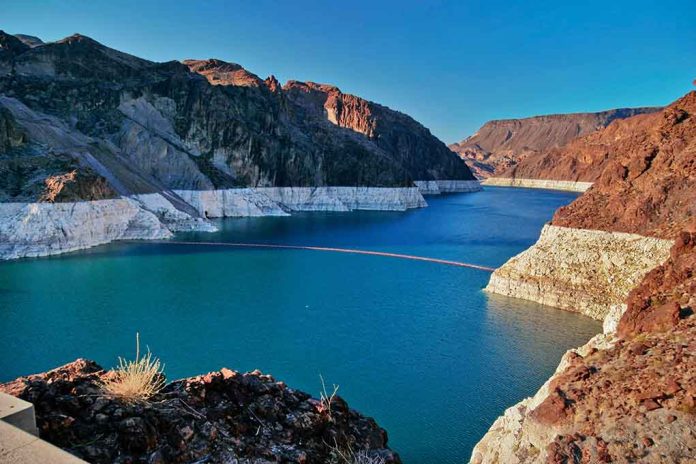 Human REMAINS Found – Disturbing Mystery Unfolds
(WatchDogReport.org) – Lake Mead is a man-made body of water that straddles the border between Arizona and Nevada and was formed by the construction of Hoover Dam on the Colorado River. Currently, the area of the lake by the Hemenway Harbor boat launch is a crime scene after a decomposing body was found in a 55-gallon barrel on the muddy shore of what used to be the lakebed.
The decomposing body stuffed inside a barrel that was found in a Nevada lake Sunday is believed to be a murder victim who could have been killed nearly five decades ago, police said. https://t.co/u0AHY8sFsI

— Maria Bonanno (@MariaBonanno9) May 4, 2022
Detectives with the Las Vegas Metropolitan Police Department (LVMPD) stated that the remains appear to be that of a man who had been shot sometime in the mid-1970s to early 80s based on his footwear, which was sold around that time period at Kmart stores. The Clark County medical examiner's office is working to identify the victim, and police departments throughout the area are fielding dozens of tips since the story broke.
If the killers are still alive and in that area, then they're probably quite shocked to find out that a body they dumped in a steel barrel well offshore in a lake about 100 feet deep was discovered by casual boaters passing by. LVMPD homicide Lieutenant Ray Spencer told the local CBS affiliate KLAS-TV that the department expects to find more bodies as water levels are expected to continue falling.
Copyright 2022, WatchDogReport.org