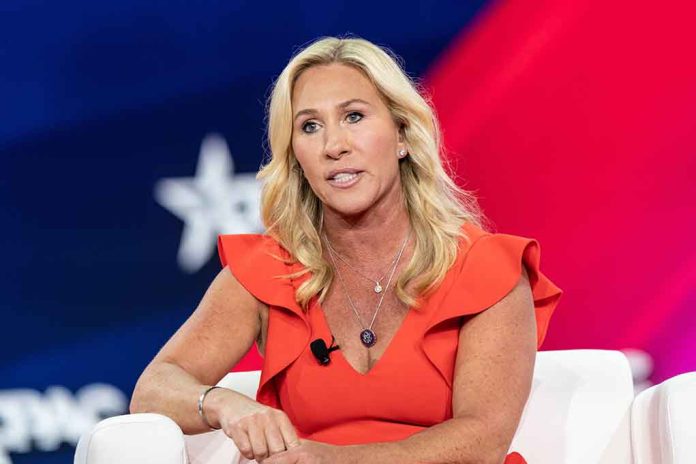 (WatchDogReport.org) – There is an old adage that says what goes around comes around, and it appears that Democrats in the House of Representatives are being taught that lesson every day lately. Three of the more divisive of their number — Adam Schiff (D-CA), Eric Swalwell (D-CA), and Ilhan Omar (D-MN) — face threats of being removed from their spots on prestigious committees. Now, Republicans Marjorie Taylor Greene (R-GA) and Paul Gosar (R-AZ) are being given assignments after Representative Nancy Pelosi (D-CA) used her position as Speaker of the House to strip them away in 2021.
Reps. Lauren Boebert, Marjorie Taylor Greene, and Paul Gosar have all been appointed to the House Oversight Committee. This is good news.

— Sarah Fields (@SarahisCensored) January 18, 2023
The House Steering Committee, the group responsible for handing out assignments, unanimously voted to seat Greene on the Homeland Security and House Oversight and Accountability Committees. She was a staunch supporter of Speaker of the House Kevin McCarthy (R-CA) throughout the 15-round battle for him to take up the speakership gavel, although there has been no confirmation on whether or not that played a role here.
Before she was elected, Greene made repeated comments and social media posts that seemed to support conspiracy theories, though she didn't do so after being elected. These comments allegedly got her booted off her committee assignments. At that time, McCarthy warned Pelosi and the Democrats of the dangerous precedent that they had set by applying that standard.
Gosar will join his colleague from Georgia on the Oversight Committee, which could be a pivotal assignment because that group will be tasked with investigating "the Biden family's domestic and international business dealings." He became the target of the Democrats' ire after sharing an animated cartoon manipulated to show him killing Rep. Alexandria Ocasio-Cortez (D-NY).
The Left seems to be in a panic over these appointments. White House spokesperson Ian Sams told Axios that they see them as "the most extreme MAGA members" of the Republican Party. Then, considering the ongoing drama of President Joe Biden's possession of classified documents in his home garage, he uttered a demand reeking of hypocrisy, saying that McCarthy needs to be transparent on any deals he made to get his position.
Copyright 2023, WatchDogReport.org