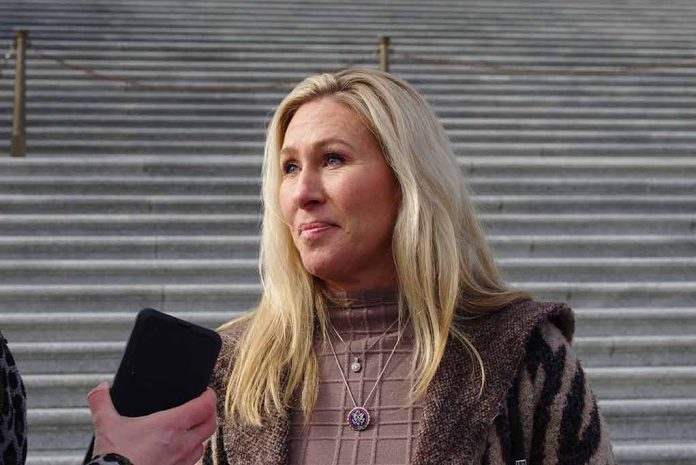 (WatchDogReport.org) – Marjorie Taylor Greene, AKA MTG, recently wrote a post on her personal Twitter account that indicates she believes her smart TV is being used to spy on her inside her home.
The post claims that while she was at home in D.C., the TV turned on by itself, and she saw an image of what she believed to be someone using a laptop to hack into her smart TV. The Tweet's wording implies that she suspects it could be the federal government spying on her. Greenet included statements about her physical and mental health in a manner that could be inferred to mean that she believes her life is in danger and wants the world to know that she is happy, healthy, and has no underlying health problems.
MTG has been called a "far-right extremist" for some of her previous claims regarded by the left as nothing more than conspiracy theories and for her support of former President Donald Trump. Some believe this claim of being spied on via her TV is another conspiracy theory concocted from reading the novel 1984 by George Orwell. There could also be a simple explanation with no malicious intent, such as a neighbor accidentally clicking on the wrong tv while attempting to screencast.
Is her claim that someone is spying on her so far-fetched? Evidence shows data is collected from smart appliances, only to be sold and used in China. Even the FBI issued warnings in 2019 about smart TVs being less secure than other devices connected to the internet allowing hackers access to home networks.
Smart appliances are infiltrating our homes in every aspect, from robot vacuums, coffee pots, refrigerators, stoves, and, of course, modern TVs. These appliances collect data that is allegedly used for marketing and research purposes. The same is true for smartphones that many carry with them constantly. These devices could expose users' lives to corrupt individuals or organizations.
Copyright 2023, WatchDogReport.org