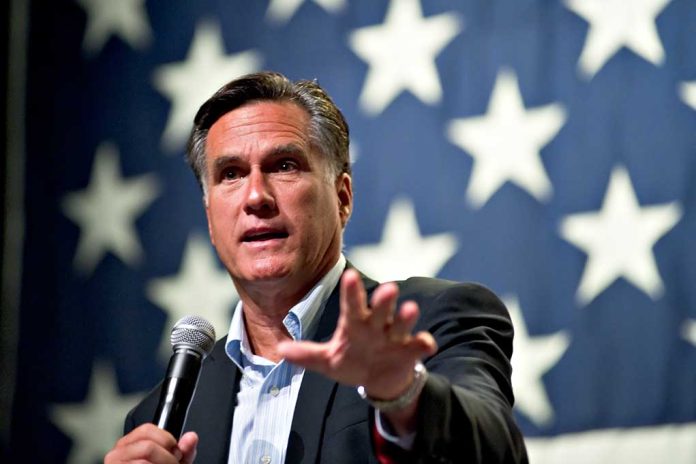 (WatchDogReport.org) – On February 7, President Joe Biden stood in front of a crowd at the US Capitol and delivered his second State of the Union (SOTU) address. Before the commander-in-chief took the podium, however, there was an exchange between two Republicans as everyone entered the chamber, readying to listen to the president's words.
As everyone was shaking hands and chatting before the speech, Senator Mitt Romney (R-UT) passed by newbie Representative George Santos (R-NY), as the controversial lawmaker stood boldly greeting other legislators. Although there was no audio, video of the interaction appeared to show the seasoned politician telling Santos he should be embarrassed. NBC News later shared footage of a gaggle of press members talking to Romney about the exchange. The lawmaker told reporters the freshman rep was a "sick puppy" who shouldn't have been at the SOTU.
".. The Utah Republican, in his remarks to reporters, did not hold back, calling Mr. Santos 'a sick puppy' who should resign .."@nytimes #SOTU #NY03 https://t.co/KxxS0tuumS

— Carl Quintanilla (@carlquintanilla) February 8, 2023
The Utah senator said that Santos is under investigation for ethics violations, and if he was in attendance at the speech at all, he should have been sitting quietly in the back. The legislator seemed offended that the controversial House member was standing front and center greeting everyone who came through the door. Romney said Santos is a liar and shouldn't be in Congress. He hopes the Ethics Committee ousts the New York lawmaker from his seat. At the end of the clip, the senator said he was disappointed House Speaker Kevin McCarthy (R-CA) hadn't called for Santos' resignation.
Earlier in the day, People Magazine reported that the speaker told CNN Santos is indeed under investigation by the Ethics Committee. McCarthy said the NY rep will not sit on any committees until the probe is complete, promising to "take action" if the House group finds any wrongdoing. He noted in previous weeks that he believes people are "innocent until proven guilty."
Copyright 2023, WatchDogReport.org