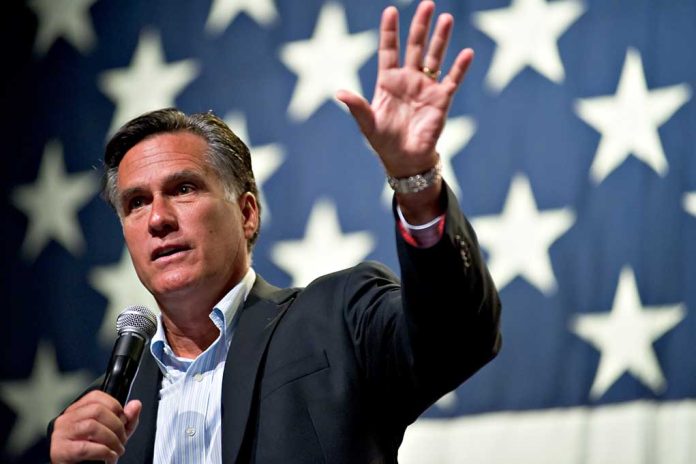 Mitt Romney BRIBERY Announcement – He Says It's Real!
(WatchDogReport.org) – There are many moving parts to any presidential campaign. For President Joe Biden, one of the planks in his platform during the 2020 election cycle was taking action on the massive student loan debt Americans face. On August 24, he outlined a new scheme to fulfill the promises that he made in that regard.
The Details
According to a White House "fact sheet, "people could be eligible for either a $10,000 or $20,000 reduction in student loan debt. Those who received Pell grants to help pay for their education will receive the most forgiveness. Others, who must still meet lighter criteria, will be granted the lesser amount instead.
The Benefits.gov webpage says:
The Federal Pell Grant Program provides need-based grants to low-income undergraduate and certain post-baccalaureate [sic] students to promote access to postsecondary education.
The fact sheet says, "Black borrowers are twice as likely to have received [those funds] compared to their white peers." This sentence allows the administration to check off another box from their campaign promises claiming this move will advance racial equity.
The Biden-Harris plan (as StudentAid.gov puts it) also sets income levels as a measuring stick for eligible individuals. Qualified candidates may not make more than $125,000/year, and household incomes may not exceed $250,000/year. They estimate that nearly 90% of the estimated $300 billion in cost will benefit those making less than $75,000 annually.
Unconvinced Lawmakers
Senator Mitt Romney (R-UT) has been a vocal opponent of this idea since it first came to light. He did not mince any words when he gave his opinion on the president's motive for making this move at this time, calling it a "bribe" in a tweet.
Romney believes the measure is an attempt to win votes in the fast-approaching midterm elections in the hopes of preserving the Democratic majorities in both chambers of Congress. Beyond that, he thinks it will add to the Biden inflation fiasco and calls it "unfair to those who paid their own way."
Sad to see what's being done to bribe the voters. Biden's student loan forgiveness plan may win Democrats some votes, but it fuels inflation, foots taxpayers with other people's financial obligations, is unfair to those who paid their own way & creates irresponsible expectations.

— Senator Mitt Romney (@SenatorRomney) August 24, 2022
Senate Minority Leader Mitch McConnell (R-KY) posted a statement to his official government website following the president's announcement. He was also forthright in his disdain for the idea, saying that "student loan socialism is a slap in the face" to people who saved their money to pay for their college education and who made an effort to pay their debt.
While many of the Democrats in Congress hailed the move, including Senator Elizabeth Warren (D-CA), those who are currently fighting for their political lives were not so happy. Representative Sharice Davids (D-KS) and Senator Catherine Cortez Masto (D-NV) are both facing stiff opposition in their elections. They believe this latest announcement may serve as an effective bludgeoning weapon for their Republican opponents.
Copyright 2022, WatchDogReport.org