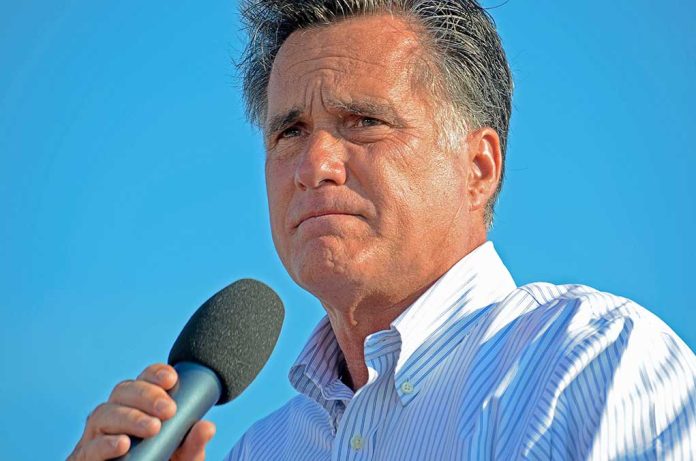 (WatchDogReport.org) – Utah Republican Senator Mitt Romney urged the GOP donor class on July 24 to pressure Republican candidates with low polling numbers. The former presidential nominee said this would make them drop out of the 2024 presidential race, which would be necessary to beat former president Donald Trump.
In a Wall Street Journal op-ed, Romney wrote that the donor class needs to make this happen by February 2024 at the latest. He claims that Trump's "apparent inevitability" is reinforced by the presence of many GOP leaders that hope to become the Republican Party's 2024 nominee for president.
The senator said that GOP influencers and megadonors must convince candidates they support "to withdraw" if they have no chance of winning the nomination. If the field narrows to a two-person race before Trump secures the nomination, there is a better chance to dethrone him.
He pointed out this is a crucial step as most of these candidates won't drop out independently because of the increased exposure and the financial incentives. Romney also explained that ending the race "behind first place" is not a bad result as this "may grease" another presidential run in the future. The senator also cited former New Hampshire Governor John Sununu by saying that "it's fun" running for president even "if you know" you won't win.
However, Romney said that if these candidates stay in the race for too long, they will end up splitting the "non-Trump vote." He explained this is what Trump needs to get "the prize," adding that "plurality" is the only thing needed for "winner-take-all primaries."
Over the last few weeks, every poll has been showing the former president as the favorite to win the nomination, with Florida Governor Ron DeSantis in the second place. The rest of the candidates have been showing low single digits in most polls. However, political analysts believe this could change in August's first presidential debate.
Copyright 2023, WatchDogReport.org