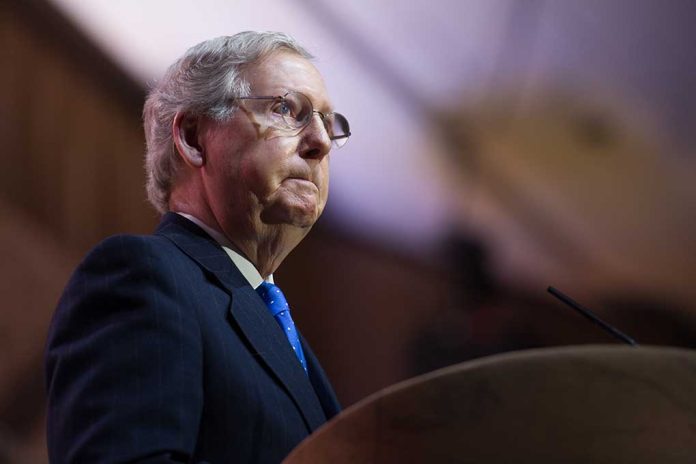 (WatchDogReport.org) – Senate Minority Leader Mitch McConnell (R-KY) moved to Kentucky when he was 13. After graduating from law school, he entered the political world, becoming former US Senator Marlow Cook's legislative assistant. The Kentucky lawmaker has been serving in the Senate himself since 1984. During that time, he's taken many trips and attended countless dinners in his official capacity. A recent engagement, however, ended with McConnell in the hospital.
On March 8, the seasoned politician tripped and fell after a fund-raising event at the Waldorf Astoria hotel in Washington, DC. The New York Times reported McConnell was attending a small dinner after the affair, which is when the incident occurred. Emergency personnel took the senator by ambulance to George Washington University Hospital. McConnell's communications director, David Popp, released a statement about the incident, stating the lawmaker had a concussion and was going to stay in the hospital for several days for "observation and treatment."
Popp said McConnell was thankful to the doctors for taking good care of him and thanked his colleagues for their "warm wishes."
One senator told NBC News on Thursday that they have been in touch with a McConnell family member.

"I can tell you that he's going to be OK," the senator said. https://t.co/AVxct3tWLA

— Scott Wong (@scottwongDC) March 9, 2023
Popp didn't give any details about the seriousness of the injury. The Mayo Clinic states that concussions can cause various problems, depending on the severity of the impact. It wasn't immediately clear how hard the senator hit his head.
The medical source listed falls as the most common cause of the ailment. Effects of a concussion can include problems with memory, balance, and concentration, but most people recover fully with proper care. The timeline of that recovery varies per person and instance, so it's unclear how long the lawmaker will take to heal.
The current incident isn't the first of its kind for McConnell. In August 2019, the Kentucky senator tripped and fell outside his home on his patio, fracturing his shoulder. The press release announcing the event stated McConnell was treated, released, and would work from home.
Copyright 2023, WatchDogReport.org