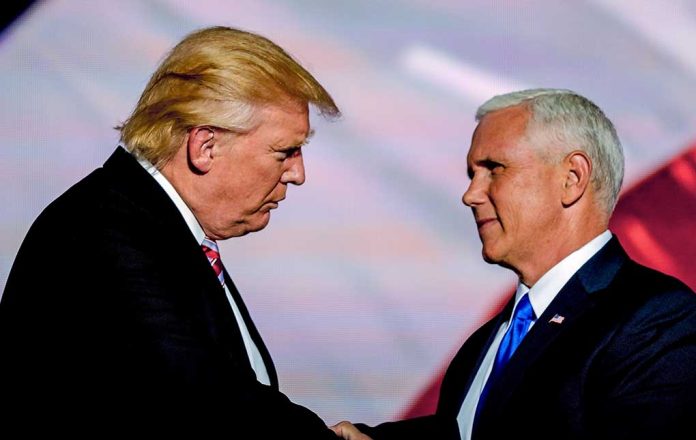 Mike Pence 2024 BOMBSHELL – It's War
(WatchDogReport.org) – Former Vice President Mike Pence may be settling in for a long hard fight for the White House in 2024. Should he decide to run, former President Donald Trump's number two man faces a world of challenges, with his former boss being the toughest. It would seem that Pence is at least laying the groundwork for the possibility and setting his feet firmly on a platform.
Former Vice President Mike Pence served notice Monday that he may seek the White House himself in 2024 – regardless of whether Donald Trump himself runs again. https://t.co/YSTsKCD4JW

— USA TODAY (@USATODAY) May 23, 2022
Pence, who was famously caught between his own convictions and the beliefs of his commander-in-chief, has spent a considerable amount of time separating himself from the former president. After remaining mostly silent about his role in the aftermath of the 2020 election, he came out during a February speech to the Federalist Society and stated, in no uncertain terms, that he believes former President Trump was wrong and that no one man can change the course of a free election.
Pence also spoke at a rally in support of fellow establishment Republican Brian Kemp, one of Trump's least-favorite people. Kemp, Georgia's incumbent governor, beat out David Perdue for the gubernatorial primary.
It seems that just about everything Mike Pence is doing leads to one road: a run at the White House. Officially, he hasn't declared one way or the other, but he has stated that he and his family will be ready to answer the call to serve if the situation presents itself, whatever that may be.
Who would you like to represent the party in 2024? If Trump decides not to run, would you back Mike Pence?
Copyright 2022, WatchDogReport.org