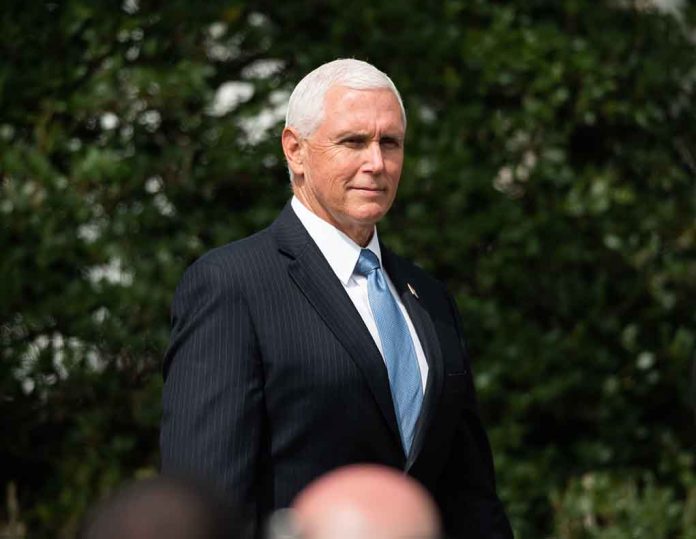 (WatchDogReport.org) – In October 2022, Insider reported on an autobiography written by former Vice President Mike Pence. The outlet stated that in the book, Pence described his relationship with former President Donald Trump as close — until January 6, 2021. The previous VP wrote about the pressure placed upon him by his boss to "overturn the election," but he refused to do so. As a result, the relationship between them "broke down."
On March 30, Pence sat for an interview with CNN, addressing Trump's recent indictment by a Manhattan grand jury. Despite their falling out, the former Veep appeared to support Trump, saying the "unprecedented" event was an "outrage." He accused Manhattan District Attorney Alvin Bragg and Attorney General Letitia James of unfairly targeting the former US leader.
Pence indicated that a judge might throw out the case before it ever sees the inside of a courtroom; however, the indictment is sealed, and nobody knows the exact charges yet.
Mike Pence responds to Trump indictment: It's an 'outrage' https://t.co/LxuPPwvOjz

— Fox News (@FoxNews) March 31, 2023
The interviewer, Wolf Blitzer, asked the former vice president if he was worried about violence in the wake of the indictment announcement and the events that will follow. Pence denounced any kind of protest for Trump, recognizing that the previous US leader can "take care of himself."
The politician seemed to have an issue with the assumption that the charges have to do with violations of campaign finance laws. While he admitted that nobody is "above the law, including former presidents," he said this particular charge — if accurate — was a stretch that looked more "political" than anything else.
Pence said the move sends a terrible message out around the globe about the United States justice system, although he didn't elaborate on the point. In the end, he claimed to be proud of the time he spent with Trump in office, although it "did not end well."
Copyright 2023, WatchDogReport.org