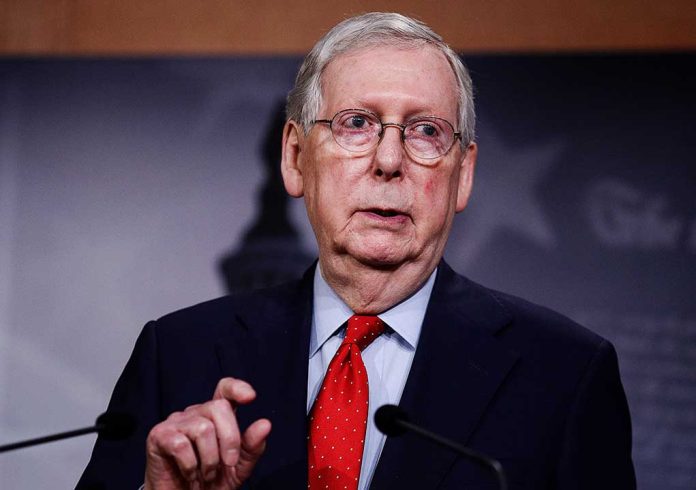 (WatchDogReport.org) – While America struggles with significant worries over national security, the economy, the debt crisis, the drug crisis, wavering mental health, and an overwhelming level of crime and violence, government officials are focused on each other's fitness for office.
Congressional lawmakers have an average age of 65. Mere laws of nature suggest health problems could arise as humans age. Members of Congress are recent prime examples, but the issue at hand is the importance of their professions. There is a need for continuity in legislative proceedings, and as politicians take extended leaves of absence, the government can not act efficiently.
In a string of health-related empty seats, Mitch McConnell has just returned to his position in the Senate after a month of recovering from a concussion and rib fracture. The Kentucky Republican fell while attending a private event at the Waldorf-Astoria Hotel in Washington, D.C.
During McConnell's absence, Republicans began to show concern about his general health and age. He is 81 years old, serving in the Senate since 1984. An Economist poll shows that almost two-thirds of Republicans want McConnell to resign. Nearly the same percentage of Democrats agree, according to the same survey.
The Democrats have similar issues with Senators Dianne Feinstein and John Fetterman. Feinstein was diagnosed with shingles two months ago and is still recovering in her California home. Fetterman suffered a stroke, returned to office, and then took another leave of absence to combat clinical depression through a two-month stay at Walter Reed.
Thus far, opinions fluctuate concerning Fetterman's fitness for office. However, comparable percentages of Democrats do want Feinstein to resign. In fact, even fellow Democratic senators have made clear calls for Feinstein to step down.
Regarding Senate Minority Leader Mitch McConnell, he reports that he is happy to be back in the office, crediting his recovery to his own "hardheadedness. He has no plans to retire anytime soon.
Copyright 2023, WatchDogReport.org